TOP>Stock List> 1995 model M2-1028
The detailed condition of the vehicle is described in each photo.
On the top slide, there are 50 attractive photos of the vehicle.
Click on a photo to see it with a description.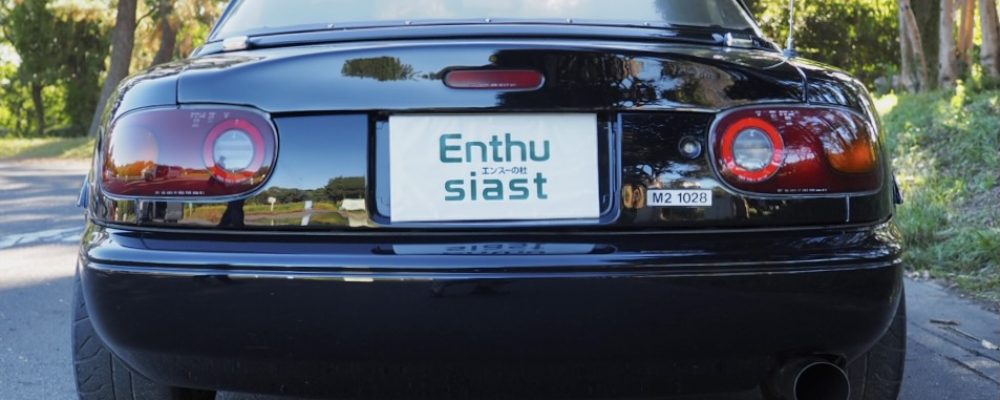 No Roadster no life...! The secret child of a roadster owner, the M2-1028 that has been carefully nurtured for 15 years is being let go.... How many are left now from the rare 300 units...! Adrenaline is running high at the arrival of an endangered species...!
As I write and interview rare cars on a daily basis, I often find myself wondering about them.
They must have decided to let go of their cars due to various reasons, but when I interview them, their eyes sparkle as if they were their own children, and there is no atmosphere of letting go.
They have been taking care of their cars like their own children for many years, and if there is any problem, it has been taken care of immediately. It's great to hear this…! I also feel that the greatest merit of private sales is that we can pass on this fact directly to the next new owner who will take good care of it.
As we all know, the M2-1028 is limited to 300 units, and as the most serious final version of the M2 "Street Competition", it has been well-balanced and modified with the owner's "mature sense" in addition to the high potential of the original. It's not a shiny collection car…! It's a car with a great "I'm driving it! It's a car with a great "I'm driving it" atmosphere…! And if you're reading this, you can easily guess that the owner is a genuine roadster rider….
As the originality of the M2-1028, the rare engine parts were left untouched, and the parts that could be easily upgraded were taken care of. During our interview, the owner told us five times, "I really don't want to sell it…". Let's take a look at some of the key points of the modification!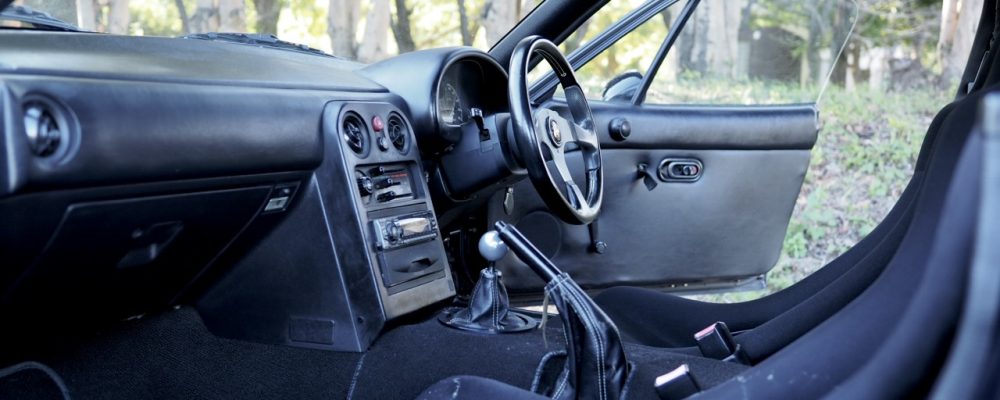 What's inside the M2-1028 that has been cherished by its owner for 15 years and has been updated for adults...
The owner, who has always enjoyed driving his NB Roadster and other cars on the circuit, decided to give up his M2-1028 15 years ago when he heard that his friend was getting married. However, the M2-1028 is becoming more and more rare as the years go by, and it seems to be an endangered species. Therefore, he only uses it for meetings and events, and has never driven it on the track.
In the past 15 years, he had only experienced minor problems such as a punctured alternator and oil leaks from the pipes, but no major repairs. Of course, it's an old car, and minor problems can happen, but they have always been able to take care of them immediately and keep the car running well.
At the time, the M2 was a surreal street competition model that was released in a limited edition of 300 units, incorporating carefully selected and polished lightweight parts that weighed a total of minus 50 kg, as "materials for users to enjoy life with a sports car. As M2 suggested at the time, "material", it has become a polished specification with further tuning.
Suspension…
TEIN height adjustable suspension, strengthened springs (6kg front, 5kg rear), strengthened bushings (stock)
Exhaust system…
Maxim Works Taco Foot – Exhaust Pipe & PROF Muffler
Stock catalyst is used for vehicle inspection
Transmission…
Transplanted 6 speed transmission for NB late RS model (30,000km old) from clutch to drive shaft.
The clutch is the weak point of the original transmission.
Differential gear…
KAAZ mechanical 2 way LSD
Wheels…
WORK RSZ-R Front 7.5J Rear 8J Special order offset 
No spacers were used, and the fenders were designed to be flush.
Front Bumper…
Garage Hand Red One's original bumper (stock bumper is available, but it is assumed to be restored)
Mirrors…
Garage Hundred One's original mirrors (stock Vitaroni mirrors are available)
Original mirrors from Garage Hundred One (with stock Vitaroni mirrors).
Engine mount…
Mazdaspeed original engine mount
Install the top…
Modify the latch of 1028 original hard top so that the top can be used.
Audio & Speakers
Speakers: Clarion ADDZEST aero board prototype (!)
Deck ・SONY European model prototype installed (only 2 in Japan!)
Engine…
M2-1028 stock engine
Spare engine of the same type is available for spare parts.
Other …
All painted in stock blue-black
Weather strip has been replaced.
Driver's seat (stock bucket seat) has been reupholstered
Newly replaced rare cowl top cover (I heard it was one of the last two…)
Rear polycarbonate screen changed from riveted to bolt and nut.
The following M2-1028 specs from the factory have been retained.
Aluminum trunk lid with lip
Lightweight hard top
Light weight polycarbonate rear screen (dulled with age as usual)
Aluminum roll cage
Aluminum strut tower bar
Aluminum brace bar
Lightweight bucket seats
Momo steering wheel
Leather-wrapped aluminum shift knob and parking brake lever
Specially tuned engine (+10ps compared to base)
These are the specifications.
The problem at the time of the interview was that the air conditioner blowing direction could not be adjusted.
It is expected that this can be fixed by repairing the wires.
Please check out the detailed video to see the very attractive appearance.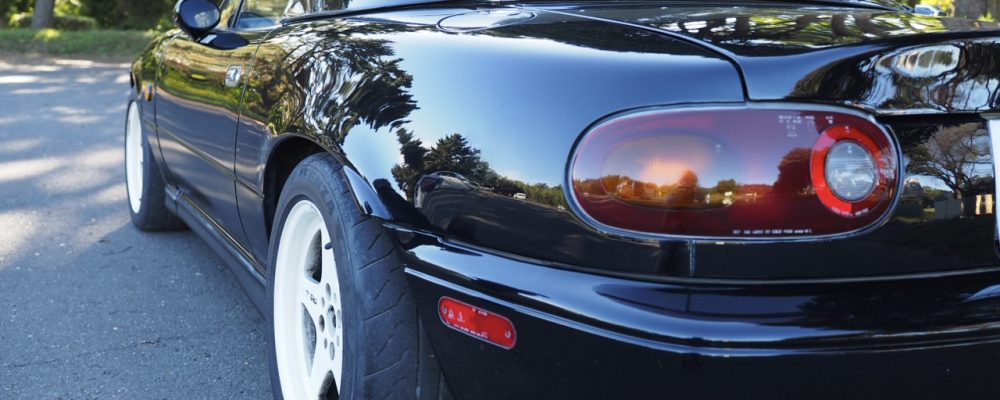 Light to ride...! Compared to other roadsters, the feeling of direct control is much different. The feeling of the car absorbing the road is just wonderful...
The owner, who enjoys several sports cars, including a race-spec roadster, wanted to keep it for a long time, and cherished it as his treasured child that he would never race, but due to various milestones in his life, factors, and lifestyle changes, he decided to let it go.
"I really don't want to sell it," he said five times, and it really touched my heart….
This is not a shiny collection car, but an introduction of the "depth" and "feelings" of a man who has spent many years working on a wonderful car that is unique to Japan, the Roadster.
"The owner said, "It's an old car, so I want to give it away only to people who can fix it up and take good care of it.
I'm sure we'll meet again at a roadster meeting in the future," said the owner, and I felt the love in his words….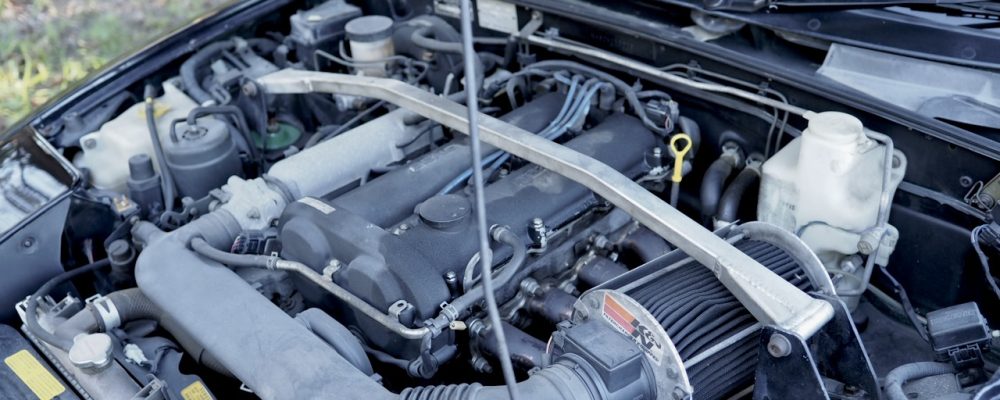 The debut of the Mazda Roadster was so sensational that almost all young men went to the Mazda dealership in August 1989 to see this car.
Mazda's direct descendant was the second Mazda, the M2, which was active from 1991 to 1995. Based in a huge Greek Ionian style building that you can still see when you drive along the Kanpachi highway, this niche branding company aimed for the "dialogue between the user and the creator" that is required in this day and age, and released a limited edition of 300 units as their last complete car. The M2-1028 was released in a limited edition of 300 as the last complete car.
Unfortunately, the brand ended up being swallowed up by the waves of the times after the bubble party, and the decision was made by Mazda itself. If it had continued today, many attractive domestic cars would have been born and the car culture would have taken a different direction….
This time, when I saw the M2-1028 that had been carefully nurtured for 15 years as the treasured child of a roadster owner, I felt like an endangered species because of the attractive appearance of the car that would never be born in the future, and there is no doubt that my brain was filled with adrenaline.
I'm sure we'll have a lot to talk about in the roadster discussion… Please come to Saitama Prefecture for such a visit.
〜〜〜〜〜〜〜〜〜〜〜〜〜〜〜〜〜〜〜〜〜〜〜〜〜〜〜〜〜〜〜〜〜〜〜〜〜〜〜
This very nice "1995 M2-1028" is currently located in Saitama Prefecture.
As this is a private sale, no consumption tax or other fees will be charged.
Please note that the monthly car tax and recycling deposit will be charged separately.
Land transportation is to be arranged by the buyer, but the author also provides classic car transportation services. Please feel free to contact me if you have any requests.
For inquiries…
The vehicles on this page were posted on the "Estate Sale®︎ Supremacy" cross-border car e-commerce site.
What is a "Supremacy" estate sale?
Estate Sale®︎Supremacy is the Japanese version of the North American cultural estate sale, which introduces cars with the owner's thoughts and feelings through interview-based manuscript preparation, and organizes things and minds.
This is completely different from buying a car at a bargain price and leaving nothing behind in terms of culture or passing it on to the next generation. We will guide and mediate you through the process of honestly expressing the owner's feelings and leaving the memories firmly in your mind while passing it on to the next generation without fail.
The content of this article was written during a three-hour interview on October 20, 2021, at 1:30 a.m., based on interviews with owners, materials received, and contact experiences.
Please note that due to the very limited time available, this may not be a 100% accurate description of the condition.
Please be aware that the condition may not be 100% accurate. Please note that comments on the condition of the vehicle are based on the weather and conditions at the time of the interview and the author's subjective opinion.
Please contact us from the bottom of this page if you have any questions about the vehicles listed on this site or if you would like to make an appointment to see them in person.
If you have any questions about the vehicle listed on this site, please contact us from the bottom of this page. Please note that this is a transaction with a person in charge in a corporation, so the actual vehicle can only be checked by a customer who is considering it as a "prerequisite" for purchase.
We look forward to hearing from you.