TOP>Stock List>2005 model Mercedes-Benz W903 T1N 316CDI OMC Built-up camping car
Mercedes-Benz W903 T1N 316CDI OMC Built-up camping car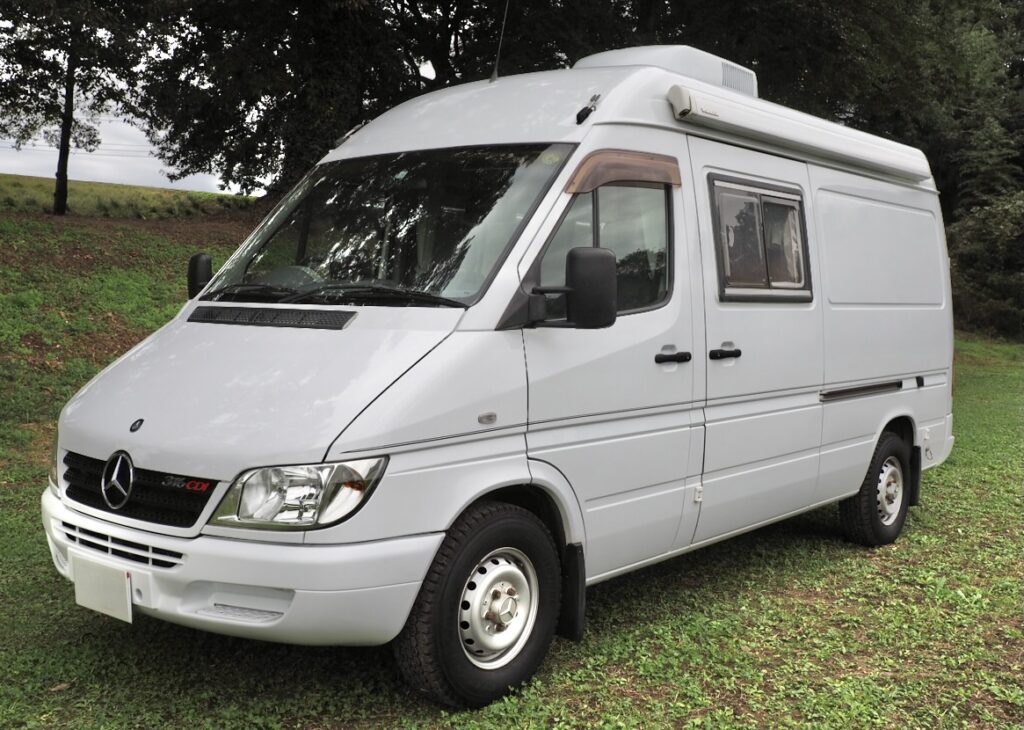 The detailed condition of the vehicle is described in each photo.
On the top slide, there are 50 attractive photos of the vehicle.
Click on a photo to see it with a description.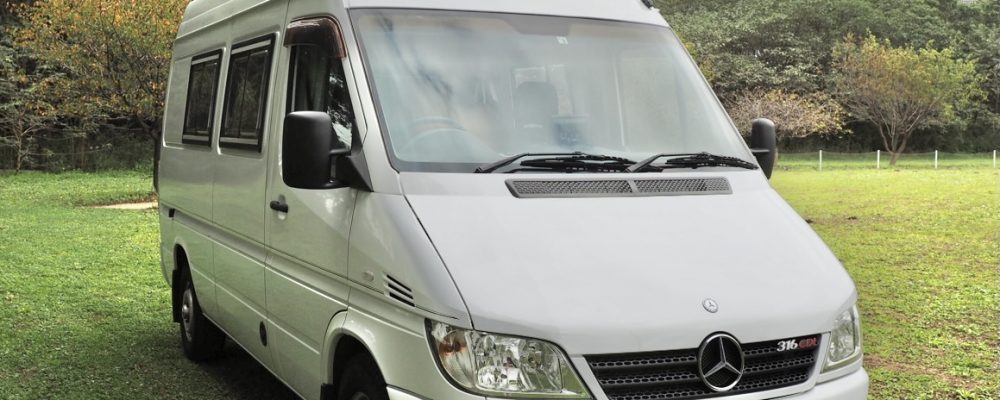 A Mercedes-Benz-based campervan that's just the right size for traveling with pets or two people, and can be used as a mobile office on vacation.
"Think about where you're going as you travel…"
The motorhome culture in Europe and North America is a very tasteful one that offers a profound way to enjoy life….
Motorhomes (campervans), which began to be produced in the 1930s, have become a part of the lifestyle culture in Europe and North America, and there are many dedicated apps called "Brit Stops" that provide information on where motorhomes can be docked, offering a truly continental taste of travel, where you can "do as you please, as your heart desires.
This is a culture that I would like to see spread in Japan as well. At the same time, the COVID-19 pandemic that has spread around the world has triggered a great deal of attention to outdoor life that avoids the three densities, and recently I have seen many large motor homes imported from Europe on the highway.
The ability to travel freely, without worrying about family or pets, and without being affected by time or weather conditions, without having to worry about the three densities… Motor homes are now becoming a style of travel in Japan.
Camping cars have been used as "RVs" by a few enthusiasts, but in this new lifestyle, they are being used not only for camping, but also for many other purposes.
One of them is the "mobile office"…. In recent years, people's sense of values have changed dramatically due to the pandemic, and with the spread of Internet infrastructure such as the 5G environment, telework has become more diverse. Camping cars are also attracting a great deal of attention as motor homes.
They can also be used for disaster prevention as "evacuation shelters" that can be moved in the event of a disaster, and the future possibilities for motorhomes, which are far more than just camping equipment, are expanding….
Translated with www.DeepL.com/Translator (free version)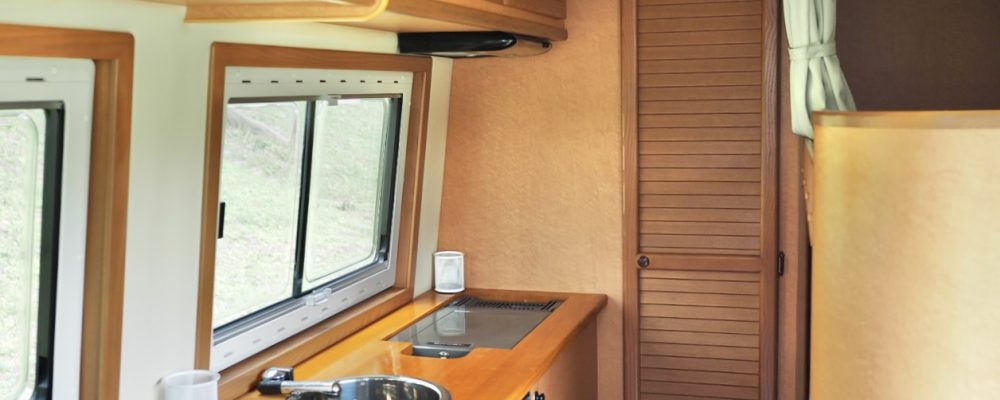 The owner is a classic car collector. Mercedes-Benz 316CDI Camping Car for two people
The owner, a classic car collector, is also a big camper enthusiast…! He has ridden many domestic and imported campers in the past, but as he is a classic car collector, his top choice is a Mercedes-Benz Transporter based model…. In Europe, it is not uncommon for a car to run one to two million kilometers, and he has great faith in the OM612 liquid-cooled inline 5-cylinder 2,700 cc intercooled turbo diesel engine that can take him anywhere and everywhere.
The base vehicle was a full-size Mercedes van called Sprinter overseas. It is a Mercedes transporter that is used all over the world, with a roomy interior height that allows the driver to move around while standing and a low, flat floor.
The OM612 liquid-cooled, inline five-cylinder, 2,700 cc direct injection (CDI) intercooled turbo diesel engine delivers a maximum output of 156 horsepower and a generous 33.6 kgm of torque, and you can experience a good start that is hard to believe for a camper….
Unfortunately, the Sprinter name was not used in Japan due to the influence of the earlier Sprinter, and instead it was sold as the Mercedes-Benz Transporter T1N.
As you can see from the sticker on the rear, the cabin was built by OMC Corporation. Each car is handcrafted by craftsmen with high-precision technology and attention to detail, including the sealing of heat shielding material, the installation of furniture, the processing of fabric material for the seats, and even the sewing of curtains. When you drive the car, you can see that it has been built with great care.
The equipment in the cabin, which has been used with care and in very good condition, was confirmed to be functional during the interview.
You can see the details in the function explanation video.
Galley
The circular stainless steel sink is in very good condition with few signs of use. The water supply and drainage tanks are installed under the sink.
Refrigerator
A car-mounted refrigerator made by ENGEL (Sawafuji Electric) will be installed. The refrigerator is of the top lid opening type, so cold air does not escape and it is easy to use. The refrigerator is a deep type, so it should be large enough for two people.
Table and sofa seat
The sofa seat can be turned to face forward or backward, and when pulled, it can be moved to the center of the vehicle, but it does not become a bed like the so-called dinette type. Of course, the fabric is still in very good condition.
FF heater
There are air outlets in the front and rear, and the function has been confirmed.
Roof air conditioner
The roof air conditioner is functioning well. The exterior (cover) has been repaired, so it looks very beautiful.
Bunk bed
The bunk beds are clean and long enough. There is a night lamp on the head side, which gives a very good impression.
Battery
Of course, there are two batteries, a main one and a sub one. The battery is loaded under the lower bunk bed. A handy battery checker is included under the sink.
Inverter
This is also installed under the lower bunk bed.
Generator
This is the type that runs on regular gasoline.
External power supply
Included. Can be used effectively at camp sites.
Closet
The rear of the vehicle is equipped with a closet for storage and a portable toilet.
It can also be accessed by opening the rear door. The portable toilet has no signs of use.
TV with digital terrestrial tuner
It is attached to the front of the table.
Awning
The awning is included. I opened it when I was taking pictures, but it opened smoothly and I was able to store it without it shifting.
It is in good condition with few stains.
It is in good condition with few stains. It has just entered 40,000 km. The engine compartment is also very beautiful, and we experienced a very smooth driving experience. The weather stripping and other parts are still in good condition. Due to its large size, this camper is often placed outside, but we confirmed that the roof and rain gutters are in very good condition with no rust marks. Please check out the 50 detailed photos and video.
Translated with www.DeepL.com/Translator (free version)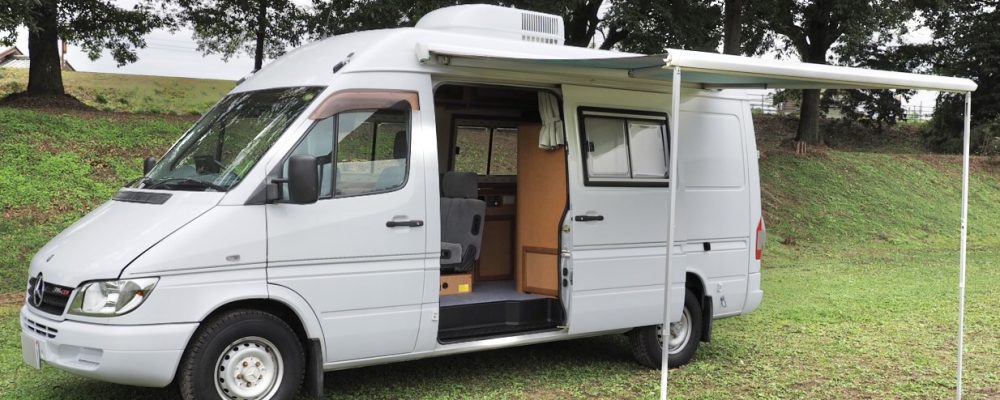 The owner said, "It's a very nice car, you should try it…! The owner said, "It's a very nice car, try it…!" and I drove this just-for-two size camping car with a temporary license plate for a while.
The overall length excluding the rear spare tire is 5600mm…. The overall length and width of this vehicle is naturally a bit larger than my Hiace, but I was impressed by the natural feeling of operation without any sense of size.
It is also easy enough to maneuver, and I thought that even first-time campervan drivers would be able to handle it…even my wife, who is limited to automatic transmission, for example…!
If you've ever driven a campervan, you'll know that it lacks the agility and swaying characteristics of a house on your back, but this vehicle has none of that, and provides such agile drivability that you'll forget it's a motorhome.
In fact, it was a very attractive campervan for two!
When you arrive at a large, empty, scenic meadow, you can open the awning, pull out the table from the rear hatch, and boil a cup of coffee while vacationing beside it. I'm sure I'll get new ideas and creative sparks… I imagined it…!
"A Mercedes-Benz-based campervan that is just the right size for a two-person trip with pets, and a mobile office for work vacations… I can't stop dreaming about it!
Please come to Gunma Prefecture to see your dream come true.
〜〜〜〜〜〜〜〜〜〜〜〜〜〜〜〜〜〜〜〜〜〜〜〜〜〜〜〜〜〜〜〜〜〜〜〜〜〜〜
This very nice "2005 Mercedes-Benz 316CDI Sprinter Campervan" is currently located in Gunma Prefecture.
This vehicle is Nox/PM compliant and its home base is outside of the control area.
As this is a private sale, no consumption tax or other fees will be charged.
This vehicle is under temporary cancellation of registration, so there is no monthly car tax.
Land transportation is to be arranged by the buyer, but the author also provides classic car transportation services. Please feel free to contact me if you have any requests.
For inquiries…
The vehicles on this page were posted on the "Estate Sale®︎ Supremacy" cross-border car e-commerce site.
What is a "Supremacy" estate sale?
Estate Sale®︎Supremacy is the Japanese version of the North American cultural estate sale, which introduces cars with the owner's thoughts and feelings through interview-based manuscript preparation, and organizes things and minds.
This is completely different from buying a car at a bargain price and leaving nothing behind in terms of culture or passing it on to the next generation. We will guide and mediate you through the process of honestly expressing the owner's feelings and leaving the memories firmly in your mind while passing it on to the next generation without fail.
The content of this article was written based on interviews with owners, materials received, and contact experiences during a four-hour interview under cloudy skies at 9 a.m. on October 19, 2021.
Please be aware that the information may not be 100% accurate due to the very limited time available.
Please be aware that the condition may not be 100% accurate. Please note that comments on the condition of the vehicle are based on the weather and conditions at the time of the interview and the author's subjective opinion.
Please contact us from the bottom of this page if you have any questions about the vehicles listed on this site or if you would like to make an appointment to see them in person.
If you have any questions about the vehicle listed on this site, please contact us from the bottom of this page. Please note that this is a transaction with a person in charge in a corporation, so the actual vehicle can only be checked by a customer who is considering it as a purchase.
We look forward to hearing from you.
Translated with www.DeepL.com/Translator (free version)