TOP>Stock List>HONDA BEAT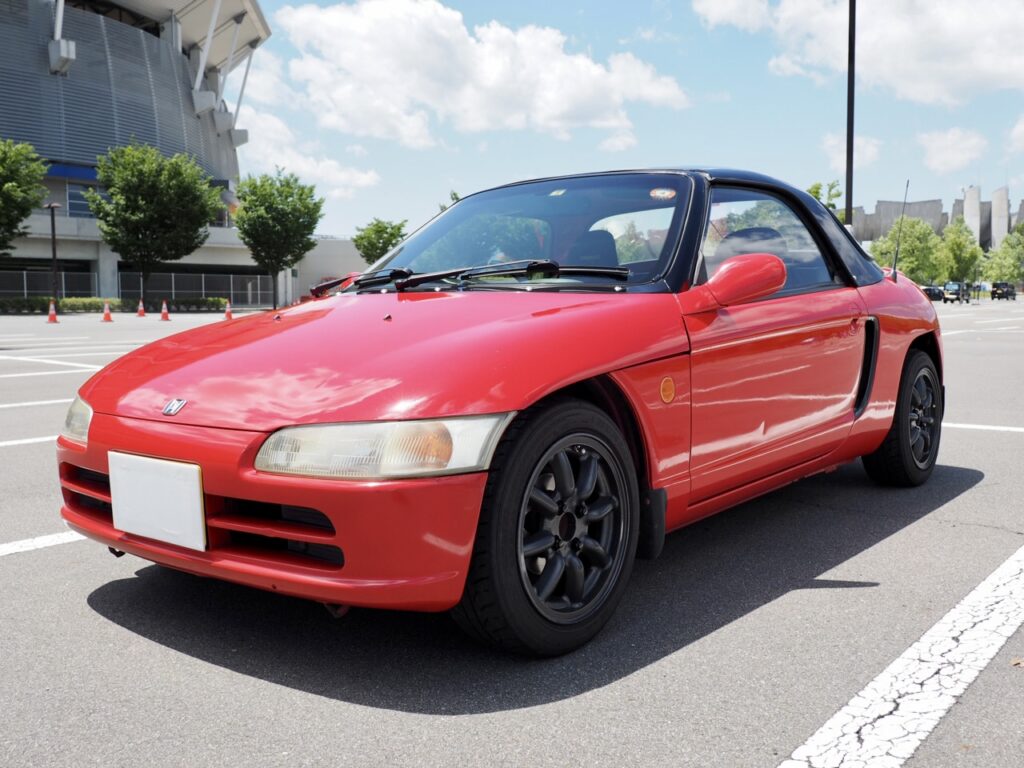 The detailed condition of the vehicle is described in each photo.
On the top slide you will find 50 attractive photos of the vehicle! Please click on a photo to view it with its description. Click outside the picture to return to the page.
A young engineer has brushed up with all his heart and soul. and refined by young engineers... 30 years after its release, it still shows its charm. JDM Kei Sport's masterpiece is a unique car that will make an enthusiast's garage life more wonderful...!
In the course of my coverage activities in Enso's forest, I meet people of various ages and occupations. These encounters are truly fascinating, and they also provide me with a great deal of energy.
This time, the client is a very young engineer with a lot of experience in racing karts….
He is a young engineer…but his insight on cars is first class due to his extensive karting experience….
He has been racing karts since he was a child, and has won awards at various races around the world. He is so skilled that he has competed in the same field as the most famous racers of the day, and his insight and perception of the automobile is so great that every single word he says is a source of amazement. He is a man of great insight and knowledge about cars, and his every word is always followed with "How wonderful! He also has such sensitivity that he can repair parts that do not exist in old cars by using a 3D printer. He is not only a classic enthusiast! He is a young enthusiast who makes us think of a bright future….
He enjoys driving the one and only Honda Beat while maintaining it himself…. He took his time to find a solid running car with no accident history, drove it until he was satisfied with it, and fixed it up. He repeated such a process repeatedly.
The result of this process is that we will introduce the various points in the latter half of this article, but it is an individual that we can see has been sublimated into a beat that has been very well taken care of.
The exterior of the car had a certain amount of wear and tear at the time of purchase, as driving was the most important factor in the selection process…. From a distance, it looks clean, but when you look closer, you can see some rough spots…. This is something that we hope the next owner will enjoy since the car is already 30 years old….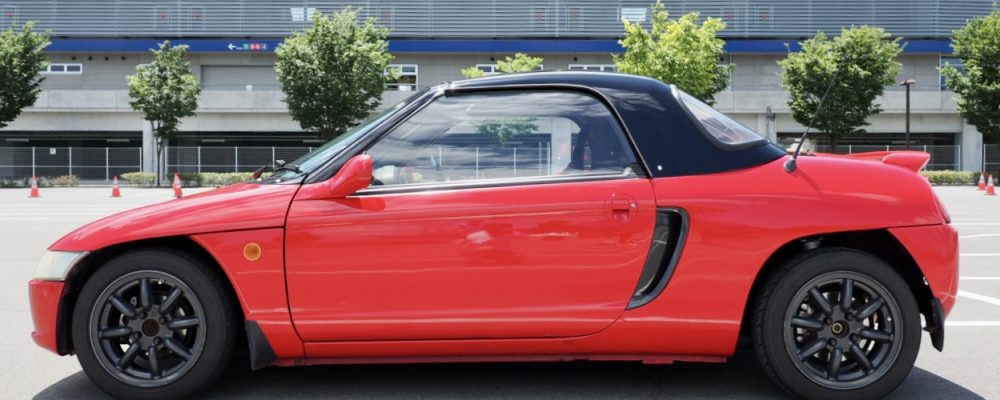 Lightweight and rigid chassis for handling and high RPM and a car to enjoy the exhaust sound... The masterpiece of JDM Kei Sports has been refined to this level by young engineers. The masterpiece of JDM Kei Sports has been boiled down to this level by a young engineer...!
Here are the details of this unit based on the owner's notes…………………….
Exterior
The previous owner painted the car in its original color, and has buffed it out meticulously, but would like to have it completely painted in the future.
There is some rust on the side sills.
The underbody and undercarriage were sprayed with Wako's salt damage prevention paint clear in September 2021.
The paint film is not very thick, so please be careful when polishing the car in the future.
The car has a small hole in the lower part of the front bumper, as shown in the photos.
The paint on the rear spoiler is rough as shown in the video.
The mud guards were originally painted in the same color as the body, but the paint has now been removed.
There are some minor scratches in places when the paint was removed.
The license light cover was replaced in August 2021.
The door wedges were replaced with new ones made by OPENCAFE GARAGE in April 2021.
The air intakes were replaced with carbon ones in July 2021.
The FRP air guide plate to the engine room made by Sky Beat was newly installed in July 2021.
An FRP hard top made by Power Service Imazu was purchased used in April 2021, painted black, and installed.
The parts for the soft top were removed in order to install the hard top. (No parts).
The A-pillar weather strip was newly replaced in April 2021. There are basically no leaks, but rainwater sometimes runs down the inside of the window.
The passenger side window sometimes goes up too high. We have adjusted it several times, but it needs to be adjusted.
Both door glass and stabilizers were replaced in August 2021.
The windshield has been replaced with AGC Cool Veil Premium in August 2021.
The A-pillars are painted black.
The cowl top is equipped with the RS Mach cowl top reproduction installation kit.
The cowl top molding is a little worn.
・ The spare tire under the hood has been removed and replaced with a tool box, a flat tire repair kit, and a cigar socket compressor.
A simple master cylinder stopper is included.
Interior
The driver's seat is equipped with an Escalate Type 1, size M, and the passenger seat with a Harukiya seat cover.
The steering wheel has been replaced with an OMP Velocita with OMP spacers.
Shift knob replaced with Spoon Duracon shift knob.
Meter was fully O/H at Body Shop Kamimura (H2 Kobo) in June 2021.
Accelerator pedal has been modified to reduce the sticking.
Installed a clutch pedal stopper made by Pro-Service.
Hazard switch may not return properly in low temperatures.
Dash speakers have been O/H'd.
Door speakers replaced with Pioneer TS-F1640 in April 2021.
Seat belts have been replaced with red ones. Seatbelts were replaced with red ones.
Room mirror was replaced by new one in April 2021.
The maintenance lid was replaced with a new FRP split type made by Sky Beat in April 2021.
The lining and sound absorbing material around the maintenance lid and around the ECU behind the passenger seat have been removed.
The ECU area has been treated with a heat shield sheet as a simple heat protection measure.
No lining in front of the trunk. Luggage mat was replaced with an external one in April 2021.
Floor mats have been replaced with external ones.
Drivetrain, cooling system, ignition system…
The engine starts well, but the oil consumption is about 1500Km/1L. Especially, white smoke may appear when accelerating after using the engine brake for a long time. O/H may be required in the future.
Timing belt and water pump were replaced in March 2021.
Valve clearance was adjusted in October 2021.
Distributor replaced in October 2021.
Distributor capacitor was replaced in May 2022.
There is a crack in the transmission case and there is a small amount of oil seepage. It is currently installed with a mileage of about 80,000 km, but it will need to be replaced in the future.
Coolant is easy to run low, so it needs to be checked occasionally.
Two radiator caps have been replaced.
The air conditioner works at about 20 degrees Celsius at full throttle on a midsummer's day.
Refrigerant is set to COLD12.
The plug cord has been replaced with a new Nagai Denshi Blue Point power plug cord in June 2021.
Plugs have been replaced with NGK IRIWAY7.
Ignition coil was replaced with Wako Technical Black Coil Mk-II C-90 in June 2021.
Air cleaner was replaced with Pro Service Sport Air Cleaner System P in July 2021.
Mitsu Funnel 35mm was newly installed in April 2021.
Exhaust manifold and catalyzer were replaced with Pro Service EX manifold in Super Catalyzer in July 2021.
Bulkhead near the exhaust manifold has been treated with a heat shield sheet.
Heat resistant bandage between catalyzer and flange.
O2 sensor was replaced in December 2021.
Exhaust temperature sensor has been removed and shorted.
Catalyzer stay was replaced in July 2021.
Exhaust manifold fixing bolts have been replaced.
Gasket was replaced by new one in July 2021.
The muffler was replaced by SSI C-B2 full stainless steel muffler in July 2021.
Reinforced muffler rubber replaced in July 2021.
Gaskets, bolts and nuts have been replaced.
Stock heat shield was removed.
Engine mounts replaced with Pro Service engine mount set A in September 2021.
Suspension
MUGEN Sports Suspension Kit is installed. Last manufactured in October 2003.
The gold "SUSPENSION" MUGEN sticker on the bottom of the shocks marks it as the last model.
RS Watanabe RBF wheels were installed in April 2021. (Same diameter 14x6J+38 PCD100 front and rear)
There are a few scratches, but they have been touched up.
Tires are DUNLOP DIREZZA Z3. (The tires are DUNLOP DIREZZA Z3 (manufactured 9 weeks in 2009) and size is 165/55R14.
The groove of Z3 is about 6mm when it was new, but I think there was about 4mm left now.
The left rear rim guard is partially cracked, but there is no air leakage at present.
The right rear brake had a drag a while ago, so the slide pins on all four wheels were cleaned and greased. There has been no drag since then, but the dust seal was torn in some places, so O/H is recommended in the future.
The sway bar mount bushings and sway bar link bushings were replaced in May 2022.
Washer B" was deformed. We recommend replacing it in the future.
The self-lock nut on one side of the stabilizer link is not attached.
Electrical system…
High-octane ROM and ECU with diag LED are installed. The late model ECU is marked by a matte gray plated cover.
High-octane ROM can be switched to regular ROM by a switch on the base.
The diag LED has the same function as the self-diagnosis by shorting the service check coupler; if a hole is drilled in the ECU lid and a viewing window is made, the self-diagnosis result can be checked from the driver's seat.
The product was made by a 1st class technician of electronic device assembly.
The ECU is in good working order, and the high octane fuel consumption is 21Km/L, which I think is quite good.
The main relay was replaced with one from CR-V, Civic, etc. in June 2021.
The fuses under the driver's seat and in the trunk were all replaced in May 2022.
Ignition switch harness replaced in June 2021.
Sky Sound Deck fully O/H, modernized AUX & Bluetooth 5.0 compatible. Illumination green LEDs have been installed (cassette is no longer available instead).
Air conditioner panel lighting has been replaced with new bulb color LEDs by Bubu Material in May 2021.
Headlight lamps have been replaced with new bulb-colored LED conversion kits manufactured by Nippon Lighting in May 2021.
Position lamps were replaced with new bulb-colored LEDs manufactured by Bubu Material in May 2021.
Tail lamps and brake lamps were replaced with red LEDs manufactured by Bubu Material in the same period.
The back lamps were replaced with white LEDs made by Bubu Material in November 2021.
The battery was replaced with SHORAI LFX18A1-BS12 dry battery in August 2021.
The battery stay has been lightened to match the shape.
Accessories list
One spare tire
All fuses before replacement
702K halogen lamp
A-pillar soft top fixing bracket
Body color touch-up paint
Body color spray paint
Warranty card for each product
That's all…
He has been studying and enjoying cars up to this point, but he has a dream to concentrate on racing karts again…. He has decided to let go of his beloved car…. The car is a Beat that has been well cared for, but still has a lot of fun to be brushed up in the future. Please check out the video for more details….
The Honda Beat was sold from 1991 to 1996 as a revolutionary light sport car filled with many "firsts", and only 33,892 units were produced in a mere 5 years. While many of these cars have become endangered species in Japan, the majority of them are still enthusiastically loved by JDM enthusiasts and other enthusiasts overseas, even after 30 years have passed.
It is the only naturally aspirated light car engine to achieve 64ps, which was the voluntary regulation value, and its maximum output is generated at 8100rpm, which is an extremely high rpm range.
The high-revving engine, which is Honda's specialty, is laid out in a midship position. A small, lightweight engine with natural and sharp response is mounted midship on a rigid open monocoque body! This is not a bad thing.
The feeling of power that explodes the more you turn the engine, inviting the rider into a world of sheer pleasure. You can safely open the throttle to full throttle on public roads, and enjoy driving at the limit of your ability by swinging freely on winding roads. If you are an enthusiast, this is the vehicle you want to have by your side….
A young engineer has put his heart and soul into brushing up the car...
JDM Kei Sport's masterpiece, which still shows its charm 30 years after its release.
This is a unique car that will make an enthusiast's garage life the best it can be.
A unique car...!
Please come and see the car that our young engineer has put his hand to…. Please come to Nagano Prefecture for a fun visit.
This well-maintained "1993 Honda Beat.
Light Tune" is currently located in Nagano, Japan.
No consumption tax or other fees will be charged as this is a private sale.
When purchasing this vehicle, please pay the monthly automobile tax and the recycling deposit.
Please note that the vehicle on this page is for private sale only, and that the buyer is responsible for all taxes and fees.
The vehicles on this page were listed on "Estate Sale®︎Supremacy", a cross-border e-commerce site for classic and collectible cars.
What is the Supreme and Best (Supremacy) Estate Sale…?
Estate Sale®︎Spremacy is the Japanese version of the North American cultural estate sale, which introduces cars that are full of the owner's feelings and thoughts through manuscript preparation based on interviews, and organizes goods and minds.
Unlike a cheap purchase where nothing is left behind, we guide and mediate the owner to honestly express his/her feelings and pass the car on to the next generation while keeping the memories in their hearts.
We conduct detailed interviews with the current owner, including past maintenance records and repair history, and cover whether or not the vehicle has been in an accident. If there is a history of major accidents, or if the current owner's ownership history is extremely short and we do not know the details, we will decline the interview.
This article was written based on an interview with the owner, materials received, and a test drive experience during a 3-hour interview starting at 10:00 on May 28, 2022.
Please be aware that this may not always be a 100% accurate description of the condition of the car, as we only had a limited amount of time to check the car.
The content of the original manuscripts is based on careful research in Japan and overseas, but is not backed up by any on-site inspection or other verification. Please be aware that comments on the condition of the vehicles are based on the weather and conditions at the time of the interview, as well as the author's own subjective opinion.
If you have any questions about the listed vehicles, please contact us from the bottom of this page.
Please note that the vehicle inspection is only for customers who are considering to purchase the vehicle.
We appreciate your understanding and cooperation.