TOP>Stock List>1961 model MG MGA 1600 Mk-II Full Restored
MG MGA 1600 Mk-II Full Restored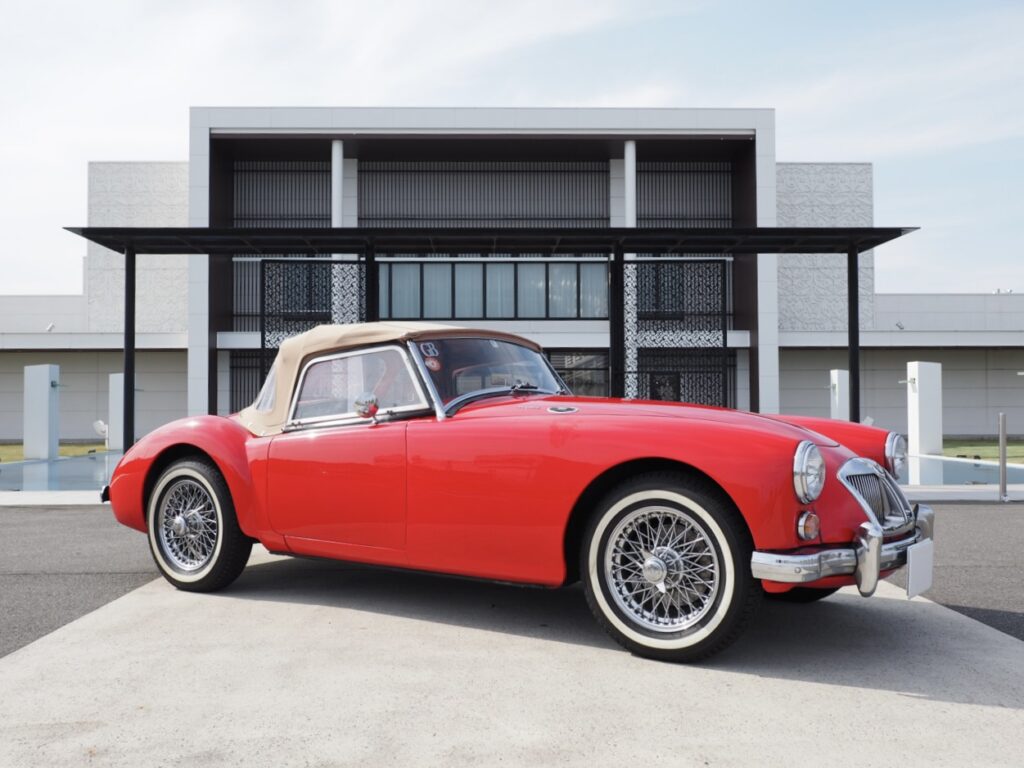 The detailed condition of the vehicle is described in each photo.
On the top slide you will find 50 attractive photos of the vehicle. Click on a photo to view it with its description.
A truly photogenic and beautiful piece of work! The final 1961 MGA1600 Mk-II, which has been restored in stages both inside and out and has been carefully ridden and refined, is a sensory experience of the golden age of British open sports cars...!
The sunlight shining in from an angle, which is characteristic of the winter season, makes outdoor photography a bit difficult, and it is usually very difficult to bring out the true atmosphere of the car, but this time the situation was completely different.
The vast amount of maintenance records that will be described later in this report will give you an idea of the passion that the previous owner had worked on the car over the course of several years. The fully restored car, which has just passed the "just finished" stage, stands quietly in front of the author's eyes with an aura of "maturity" around it. ………………………
The beautiful standing figure is also really excellent.
The knock-on type wire wheels and white-ribbon tires are truly wonderful, and the 1691 MGA 1600 Mk-II, standing in front of you "moistly…," is a bright lens with a maximum aperture of 1.2 f/stop.
The moment she was seen, she was transformed into an enchanting model…!
I was shouting over and over in my mind, "Beautiful…so beautiful…" as I took all the stills. I realized that I had taken more than 400 photos, instead of the 50 that I had intended to publish…. I was surprised to see the photos without any correction when I checked them on my PC monitor later on. Please read the whole manuscript with the image of "a truly photogenic individual" in your mind.
Translated with www.DeepL.com/Translator (free version)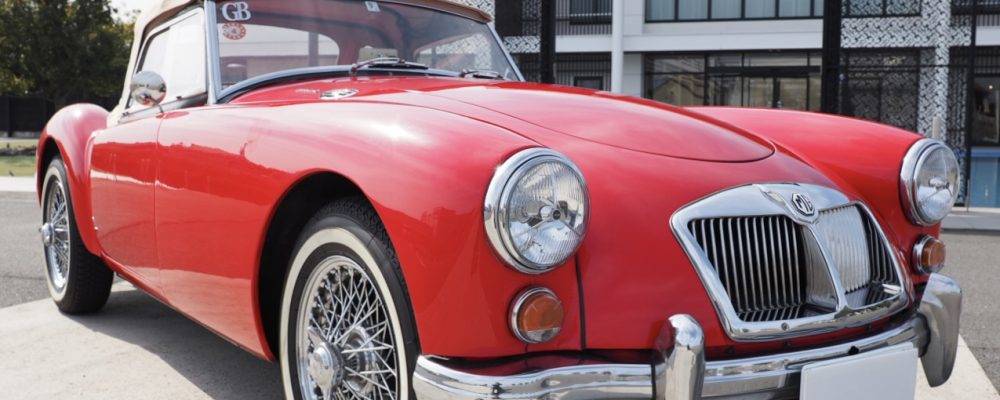 Evolution from an open wheeler... The streamlined design of the entire body was a super sensational debut...! What is the fascinating history of MGA, whose racing car design for Le Mans became a production car?
The MGA was the origin of British lightweight sports cars, and as a sports car produced from the production line, it graced the golden age of British lightweight sports cars….
Here is a brief introduction of the MGA lineage of only 7 years….
1955 – EX182 Le Mans special model produced.
Same year – Production model with 1,500 cc OHV engine, almost exactly the same style, goes on sale.
1956 – Fixed head coupe model added
1958 – 1600cc DOHC twin-cam engine model added
1959 – Model change to MGA1600
1960 – Deluxe model added
1961 – Model change to the final MGA 1600 mk2
June 1962 – Production discontinued in favor of MGB
After World War II, it was American soldiers stationed in England who were attracted to the small, lightweight sports cars such as the British MG-TC, TD, and TF….
The British, whose economy had been drained by the war, increased exports to the unaffected North American market by designing postwar models to facilitate production of left-hand-drive models….
The MG-TF Midget, a boxy convertible, was very popular among officers at the time, and BMC presented its successor, the MGA, at the 1955 Frankfurt Motor Show as a production car based on a Le Mans racing car.
Interestingly, the MGA design was an accidental result of aerodynamic considerations during the production of the Le Mans race car, which started in 1951 when Sid Enever of MG redesigned Le Mans driver George Phillips' T-type MG car and made it streamlined. When it came time to streamline the car, the problem remained that the seats were too high, so the chassis was replaced with wider side members and the seats were mounted on the bottoms of these members to solve the problem.
The appearance of the MGA must have been quite a shock to people at that time, who only knew the open-wheelers of classic boxy classic cars, to see the super modern impression of an ultra-streamlined design full of aerodynamics, straight out of a Le Mans racing model…!
In the United States, which was victorious in World War II, there was a wealth of ideas for incorporating the designs of aircraft that had been used in the war into motorization. The "MGA" was a great transformation from the image of the past, with its full aerodynamic body and futuristic styling that was favored in the North American market.
Described as the "First of a new line" in its initial advertisements, the MGA made a sensational debut, going from classic to modern style and leaving its mark on automotive history….
The streamlined style and modern atmosphere of the MGA, which was a clear departure from the TF, the last of the boxy cars, was enthusiastically welcomed around the world, and a total of 101,081 cars were produced in just seven years, until sales ended in 1962. Most of them were sold in North America and other markets around the world, creating a golden age of British-made open sports cars.
Translated with www.DeepL.com/Translator (free version)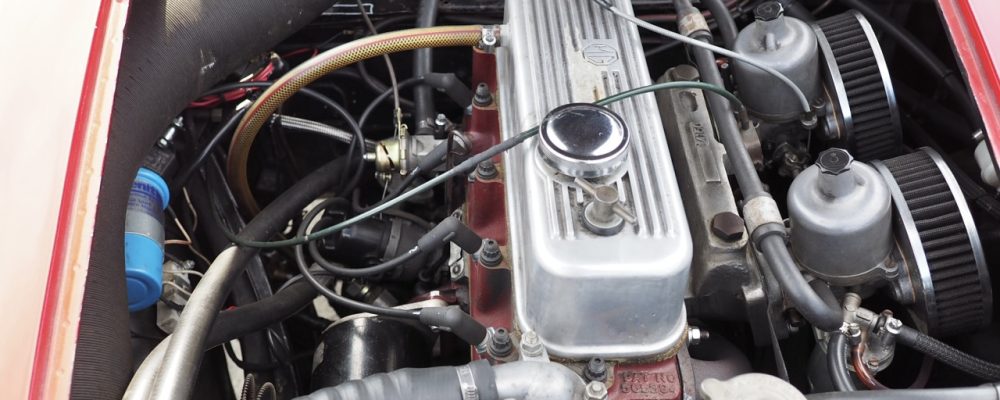 The final, fully restored MGA 1600 Mk-II... with 65 repair slips including engine overhaul...! We are very impressed with this rare piece of equipment, which can be driven in an impressive manner that reminds us of the time when it was launched...!"
The MGA Mk-II underwent major improvements in 1961: the bore diameter was changed from 75.4 mm to 76.2 mm, the engine size was increased again to 1622 cc, the cylinder head that houses it was improved, the combustion chamber was redesigned with larger valves, and output was increased to 90 hp…. In addition, the final gear was changed to 4:1, allowing for a more relaxed and high-speed driving experience.
Externally, the model features a vertically embedded front grille and taillights positioned horizontally under the trunk lid. 8719 units of the model alone were produced at the time….
The VIN# of this car is GHL2/100781, and the first year registration on the vehicle inspection certificate is 1987 (Showa 62), and the fact that it is left-hand drive indicates that it was imported later….
The most impressive part is the maintenance records and repair details from 2003 to the previous owner's era…! There are 65 sheets, which cannot be described here….
Here are some excerpts from the main ones…
August 2003 – Complete carpet replacement
September 2003 – Grille removal and molding replacement
March 2004 – Windshield replaced, knob set replaced, heater control panel replaced, pillar rubbers replaced, harness set replaced, push switches added, floor mats replaced, voltage regulator replaced, interior upholstery replaced, fan switch added, MG panel replaced, complete set of molding replaced Re-plating, horn button replacement, glass stay replacement, weather strip replacement, hood pin replacement, seat upholstery replacement, meter panel replacement, harness replacement, all interior and exterior replacements, hood disassembly and assembly, all exterior painting, etc.
August 2005 – Complete vehicle inspection and maintenance
March 2006 – Side brake wires replaced
August 2007 – complete vehicle inspection and maintenance
January 2008 – Steering wheel replacement
March 2008 … Heater valve replacement
March 2008 … Wire wheel import replacement
May 2008 – Rear center lock hub installed and replaced with hub for center lock
November 2008 – Repaired differential oil leak from rear left axle and overhauled brakes
Fuel pump repair
January 2009 – Rear suspension overhaul, Spax conversion kit installed, front suspension overhaul, boots and bushings replaced, tie rod end boots replaced, shaft boots replaced, etc.
February 2009 – Meter cable replacement and meter repair
August 2009 – Complete vehicle inspection and maintenance, overhaul of rear drum brakes
September 2009 … Dynamo replacement, positive grounding, main key circuit change, etc.
Sep. 2009: Repaired diff oil leak from rear right axle, adjusted brakes, etc.
September 2010: Repaired headlights, created additional relay circuits, rewired headlights, performed arcing, etc.
November 2010 – Tires replaced and reassembled, special balancing performed
January 2010 – Piston set, connecting rod bearings, main bearings, thrust metal, head, rocker gasket, thermo housing, water drain trap, condenser, clutch kit, camshaft bearings, timing chain, cam gears, crank gears, etc. – All replaced.
January 2011 – Carburetor overhaul, water pump replacement, etc.
February 2011 – Fuel hose replacement, oil strainer replacement, float chamber replacement, valve seat polishing, valve guide replacement, piston replacement
February 2011: Engine overhaul, engine removal – cleaning – disassembly and assembly – measurement and balance assembly of each part, distributor replacement, plug cord replacement, etc.
August 2011 – Complete vehicle inspection and maintenance. Brake and clutch master cylinders overhauled, brake and clutch overhauled, caliper pistons replaced, etc.
October 2011 – Indicator switch replaced
November 2011 – Engine adjustment, muffler replacement, tire replacement
August 2013 – Complete vehicle inspection and maintenance, distributor cleaning, condenser replacement, etc.
November 2013 – Ignition system review, coil replacement, point replacement, plug cord set replacement
April 2014 – Brake light switch replacement
October 2014 – Radiator removal, cleaning and repair
August 2015 – Complete vehicle inspection and maintenance, replacement of brake pads and all oil and grease
November 2015 – Engine adjustment performed
September 2008 – Battery replaced
November, 2016 – Repair of noise from transmission, removal of all interior parts, removal of center tunnel, removal of all floorboards, and engine and transmission removal.
December 2016 – Replaced with a rebuilt gearbox and all transmission mounts, etc. were replaced.
August, 2017 – Vehicle inspection and maintenance performed
August 2028: Car inspection and maintenance, brake and clutch master cylinders replaced
October 2049 – Engine adjustment
March 2021: Implemented countermeasures against overheating.
May 2021: Changed to LED headlight bulbs, repaired brake fluid leak
May 2021: Imported soft top replaced; Michelin white ribbon tires replaced
July 2021: Re-covered the top, etc.
August 2021: Complete vehicle inspection and maintenance
September 2021: Brake fluid seepage countermeasures implemented
October 2021: Brake master cylinder packing replaced
And so on…
It is clear that the car has been lovingly cared for over a long period of time and enjoyed being ridden.
As you can see in the video, this 1961 MGA1600 Mk-II is an ideal classic sports car that is very smooth and light in every operation.
The engine, gearbox, handling, brakes, and the finish that allows the car to accelerate without any trouble, all of which must have been worked out while driving, are truly wonderful, and it handles city driving with elegance, and even makes you think, "It will be fun to take it on a winding road…. I'll be right back…! It is full of "that feeling" that every enthusiast knows…!
I put my hand around the inside of the door handle, pull the wire to open the door, and get into the freshly restored car….
The instrumentation, which is classic but has evolved into a modern instrumentation, is just like a British sports car of the golden age…. The low seats and adjustable steering wheel are just like a sports car, and the drive while feeling the era is truly a supreme time….
The rack-and-pinion steering with only two and a half turns of the lock-to-lock mechanism was so quick and delicate that it must have been a novelty at that time…. The steering is completely habit-free, and the clear wheel return action when driving straight ahead is also a symbol of the easy-to-ride image…. The pleasure of driving while repeatedly shifting up and down by operating the shifter with a click is a wonderful thing that cannot be replaced by anything else, especially the "heel and toe" method of synchronizing the engine and gears with the gas pedal while applying the brake when downshifting. I can't get enough of the atmosphere where the car just wants to "go for it"….
Of course it is a classic car…. It is true that a vehicle that has been well taken care of gives a sense of security, but when it is in the repair shop, there is a lot of patience…. But when it's in the repair shop, it's a constant struggle………………………. It is the mindset that can turn hardship into enjoyment that makes the deepest enjoyment of classic cars possible….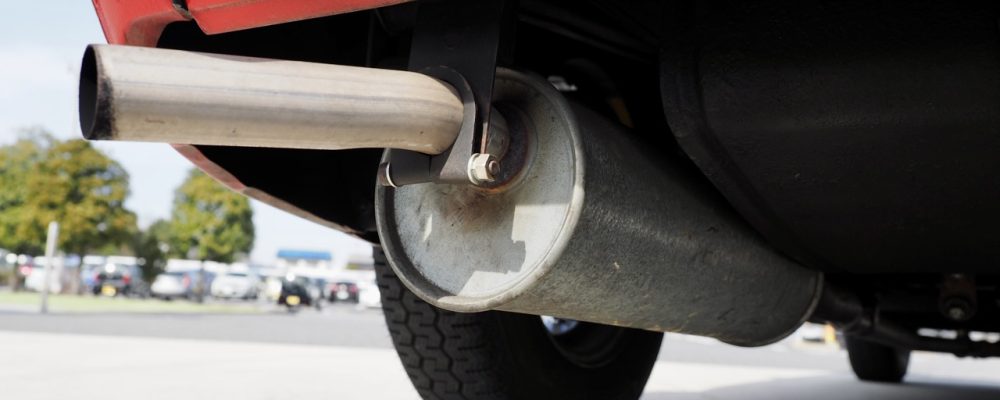 In my honest opinion, this 1961 MGA 1600 Mk-II…was a really nice piece of work….
Looking at it in chronological order, I can feel the passion and care with which the owner has dealt with the car…. That's what I felt in this report…!
The precious piece that has been finished up to this point, along with its precious history, will surely create a very positive and positive life for the new owner who has yet to be seen…!
A truly photogenic and beautiful piece of work…! The final 1961 MGA1600Mk-II, which has been restored in stages both inside and out and has been carefully ridden and refined, is a sensory experience of the golden age of British open sports cars…!
Please come to Gunma Prefecture for a precious experience to feel the feelings.
This very nice fully restored "1961 MG MGA 1600 Mk-II" is currently located in Gunma, Japan.
No sales tax or fees will be charged as this is a private sale.
Please note that you will be responsible for the monthly automobile tax and the recycling deposit.
When making an inquiry…
The vehicles on this page are from the classic and collectible car cross-border e-commerce site
This is a listing on the "Estate Sale®: Supremacy" website.
The Supreme and Best (Supremacy) Estate Sale… What is it?
Estate Sale®︎Spremacy is the Japanese version of the North American cultural estate sale that organizes goods and minds by introducing cars that are full of owners' thoughts and feelings through manuscript preparation based on interviews.
Unlike a two-for-one or low-priced purchase that leaves nothing behind, we guide and broker owners to honestly express their feelings and ensure that their memories are passed on to the next generation while keeping their hearts firmly in place.
The content of this article was written based on the vehicle cleaning, interview with the owner, materials received, and test drive experience during a 4-hour interview starting at 11:00 a.m. on February 14, 2022.
Please note that this may not be a 100% accurate description of the condition of the vehicle due to the limited time available.
The content of the original manuscripts is based on careful research both in Japan and overseas, but we do not have all of the information backed up by on-site visits or other means. Please note that comments on the condition of the car are based on the weather and conditions at the time of the interview, as well as the author's own subjective opinion.
If you have any questions about the listed vehicles, please contact us from the bottom of this page.
Please note that the vehicle inspection is only for customers who are considering to purchase the vehicle.
We appreciate your understanding and cooperation.