TOP>Stock List>1959 model Nash AMC Metropolitan Convertible Restomod
Nash AMC Metropolitan Convertible Restomod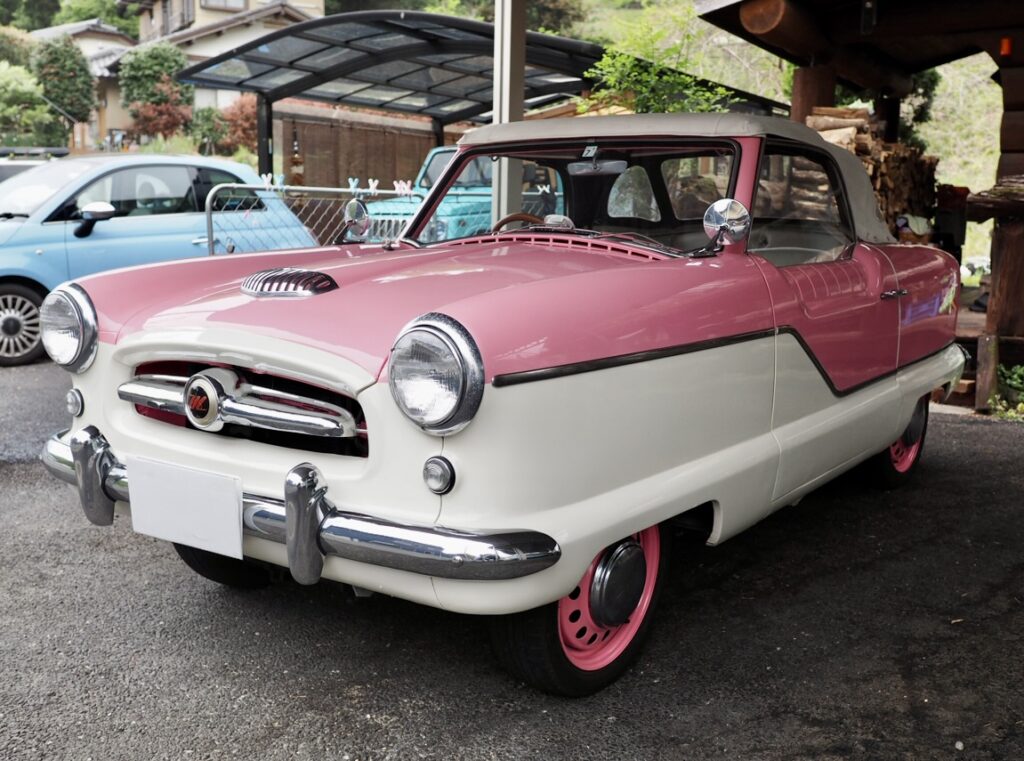 The detailed condition of the vehicle is described in each photo.
On the top slide you will find 50 attractive photos of the vehicle! Click on a photo to see it with its description
70 year old classic car for everyday use ...! A classic your wife can drive...! Transplanted with a domestic mini car drivetrain, all refreshed...! 1959 Nash AMC Metropolitan Convertible with right hand drive, AT and AC was the car of your dreams for life...!
The golden age of the American automobile in the 1950s, when there were no restrictions on automobile design…
The free and modern style born from the mix of aircraft design that played an active role in World War II and mid-century industrial design is overflowing with energy and shining brightly in today's motorization struggle to find the next source of power, nearly 70 years after the war. It is a "classic".
That is the origin of the fascinating word "classic," but on the other hand, 70 years of machine age naturally means that there are many difficult parts…. The fact that the machine is so difficult to maintain, that it cannot be ridden in summer, that it does not run in winter, that it can only be enjoyed for a few days a year, and that most of the time it sleeps in the doctor's garage… these are common problems for the "distressed owners" reading this…
I am sure that most of the "distressed owners" who read this article share this fact…. Enjoy the classic car life to the fullest…! The "1959 Nash AMC Metropolitan Convertible" that we introduce here makes such a dream life style possible…!
Please read on with the video of the 1959 Nash AMC Metropolitan Convertible driving through the greenery with its familiar engine sound…!
Translated with www.DeepL.com/Translator (free version)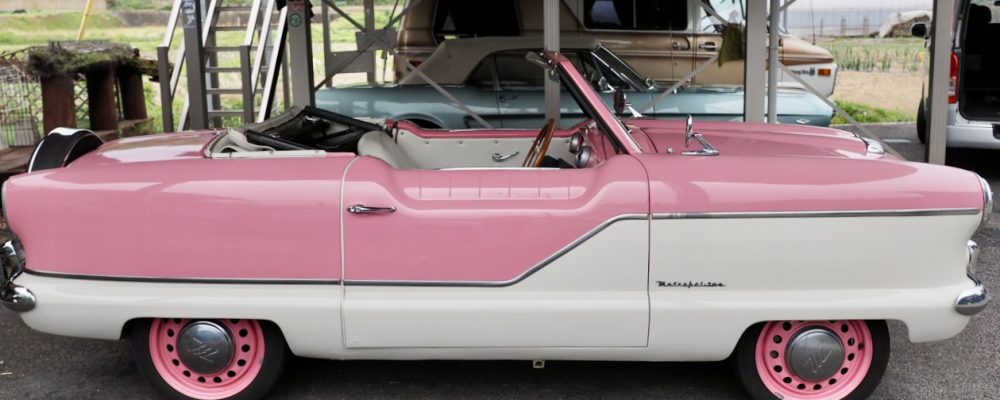 Quite stylish to look at today ...! A design that went against almost every trend in American automotive design and was ahead of its time ... this is the kind of car that the Nash AMC Metropolitan was ...!
In the U.S. during World War II, women were actively employed in factory work, etc., replacing men who were taken away for military service (Rosie the Riveter, modeled after a real-life ordinary woman, was even featured in a Norman Rockwell poster), and this was the beginning of the subsequent advancement of women in society. It was a time when women were actively employed in factory work, etc., and it was a catalyst for women's subsequent advancement in society.
After World War II, many women married at a young age, with an idealistic view of family life. On the other hand, the number of married working women increased, and the percentage of married women working rose from 15% in the 1940s to 25% as women took over the jobs of men who had gone off to war. This led to a dramatic increase in women's participation in society in the 1950s in the United States.
Anticipating an increase in demand for compact cars that were easy to maneuver and economical, the management of Nash Motor Company went headlong against the trend of American car design, in which "the bigger the better" was considered to be the car for mothers to use for work, shopping, transporting children, and as a second car for the family, and created a new postwar market, the "personal use car. The company decided to introduce this compact and attractive design to the emerging postwar market of "personal use cars"….
However…
Nash's management calculated that it would be impossible to build an unprecedentedly compact car from scratch in the U.S., including the engine and transmission, because the tooling costs would be too high. Therefore, they decided to use the existing drivetrain (engine, transmission, suspension, brakes, and electrical components) of compact cars from overseas and produce only the molds for body panels and other unique parts in the U.S. and assemble them overseas. In 1952, the Austin Motor Company, a subsidiary of BMC, formed a partnership with Fisher & Ludlow.
Fisher & Ludlow would produce the body, the mechanical parts would be made from Austin Cambridge A40/50/60 parts, and the final assembly would be done by Austin Motor Company. The first American-designed car produced in Europe exclusively for North America was born.
Translated with www.DeepL.com/Translator (free version)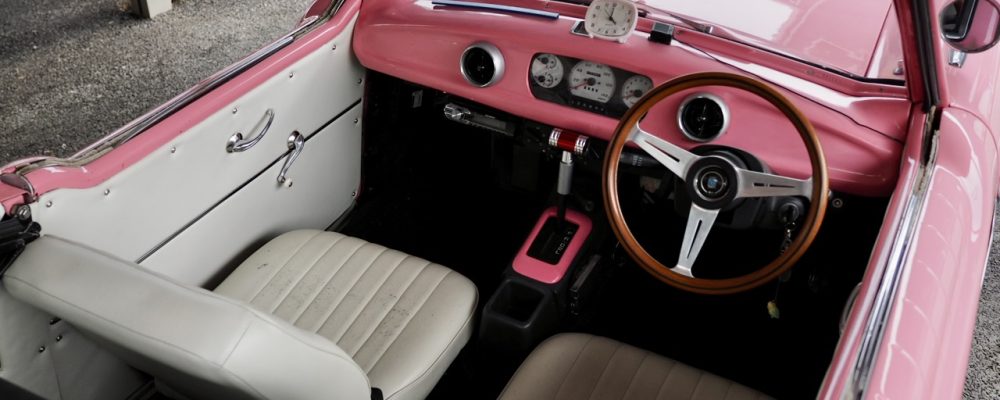 Even the naming is great... The first car that captured the hearts of women... Nash AMC Metropolitan.
In the 1950s, when American cars born in the victorious United States of America under free ideas took a great leap forward… In this golden age when large-displacement cars with tailfins from the influence of aircraft such as the Buick Invictor, Ford Thunderbird, Oldsmobile, and Cadillac Eldorado were galloping along…. The Metropolitan's compactness, which was even described as "whimsical," appealed to the entire United States….
The Metropolitan was attractively publicized to women across the country by Miss America 1954, Evelyn Margaret A.
It was attractively publicized and marketed explicitly to women as "America's all-new kind of car" (1955), "luxury in miniature" (1959), and "perfect for personal mobility" (1960)….
The Metropolitan, which was billed as "a joy to drive and economical…" recorded a fuel economy of 15.2 km/L at an average speed of 55 km/h in official U.S. fuel economy tests, which was unbelievably high for a large-displacement car at the time…and it truly captured the hearts of women at home….
Princess Margaret of England, actor Paul Newman, and Elvis Presley are famous lovers of the Nash Metropolitan, and it is known that Steve Jobs purchased his first Nash Metropolitan when he was 15 years old at Homestead High School, working part-time at the Hewlett & Packard factory. It is known as the Nash Metropolitan.
The Nash AMC Metropolitan, the first American subcompact car designed by an American and built by an Englishman, went into production in October 1953, and 95,000 were released over the next eight years from Series I to Series IV, making it one of the top-selling cars imported into North America at the time. It was one of the top-selling cars imported into North America at the time, highlighting the need for compact cars in the U.S. and spurring the Big Three of General Motors, Ford, and Chrysler to develop compact cars in the 1960s.
It is not a car made by a luxury manufacturer… It is not a racing car, nor was it mass-produced…. However, this car clearly has an aura of "timeless cuteness" that has been loved by both car lovers and those who are indifferent to cars for many years.
Translated with www.DeepL.com/Translator (free version)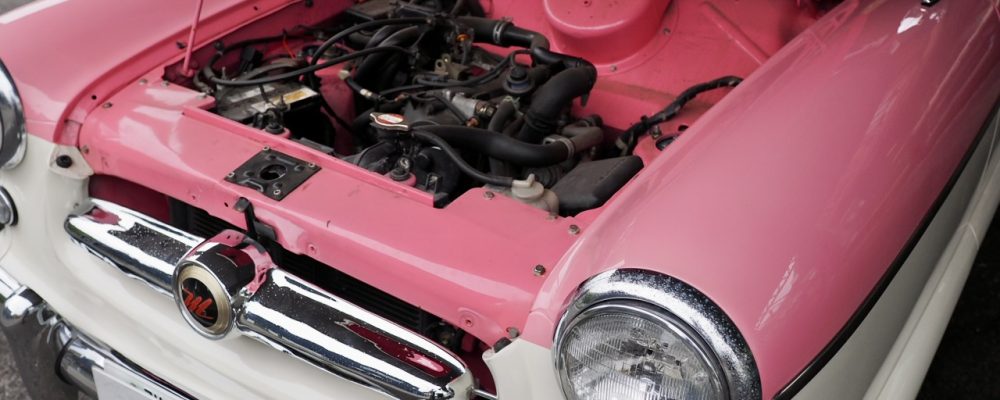 A 1959 Nash AMC Metropolitan Convertible with right-hand drive, AT and AC, purchased for his wife by an owner who loves classic American cars, is a restomod based on a Daihatsu Terioskid 660cc turbo...!
The owner of this car, who has a great love for fascinating American classics such as the finest Ford Mustang and a vintage Chevy van in his garage, said, "Let's go for a ride! The owner of this car, in order to enjoy the American classic car life with his wife… "Let's ride together…! He proposed to his wife, "Let's ride together…" and she said, "It's so cute…! The 1959 Nash AMC Metropolitan Convertible was a big hit with his wife and they welcomed it as a member of the family three years ago….
We started consulting with a specialty store in Tokyo that specializes in customizing this car, and decided to use a 1998 Daihatsu Terioskid 660cc turbo with 83,000km on the odometer as the donor car, swapping the Austin Cambridge engine, transmission, suspension, brakes, and electrical components with those of the donor car. The dashboard was redesigned to make use of the Terioskid's instrument panel, and the AT selector was installed on the floor.
The body was newly imported for this project, a 1959 Series II appearance car, which was used for assembly and finishing work, and the body color was newly painted in a very nice two-tone "Ivory & Pink" with the wife's input…. …
The Metropolitan is originally characterized by pop mid-century colors, but this coloring really expresses the car's personality, and the freshness of the paint, which was applied only 3 years ago, gives it a unique coloring that attracts everyone who sees it…….
The classical appearance has only a little rust on the left chrome light ring… Open the quaint door, sit down on the restored seat, and turn the cell, surprised by the unique compact image… The engine starts effortlessly with the familiar sound of the cell motor…. The engine starts without any difficulty……..
The owner shifts the AT selector to D range before the engine warms up…. The 810 kg lightweight body starts running normally…strangely normally…with a familiar engine sound.
 Deep… deep…! Deeply tasteful…! The classic taste is still there, but the way it drives through the public road without any trouble, "This is fun…….! It's wonderful! I really felt that…!
The owner said that the auto-return indicator was not returning well, but other than that, "There are no problems at present…".
After the car was finished, the front struts were replaced with adjustable ones to further improve the driving performance, and the timing belt, water pump, tensioner, battery, etc. were replaced as preventive maintenance at 85000km, about 2000km after the car was driven.
The owner said that since it is a Terioskid, there are many parts available……and it is inexpensive and very easy to maintain……..
Also, ETC is included, but "sometimes it doesn't work, so please consider it as an extra…"….
The body was coated with glass coating by a friend of the owner's who is a professional polisher, and the car is a beautiful example of mid-century American industrial design. When he and his wife go to old car events, the car is so popular that it is surrounded by people in no time at all.
For the past three years since this car came to us, the couple has enjoyed it very much, from daily transportation to work to attending events, but their love for it has grown so much that they have had to organize their overgrown garage, and they have decided to part with it.
They sincerely hope that the next "new owner" will enjoy it and make their life rich and full of sensitivity….
The design of this car is classical yet full of modern taste, and it is hard to feel that nearly 70 years have passed.
When I am interviewing and writing about rare cars on a daily basis, I often wonder about them.
Owners who have decided to let go of their cars for various reasons, but who, when we interview them, have a twinkle in their eyes as if they were our own children, and have absolutely no mood of letting go of their cars….
They are the ones who have been struggling for a long time and have finally found a car that is full of individuality and charm…. After all those years of hard work, the car finally arrives in your hands and you cherish it as if it were your own child, and of course, if there are any problems, you immediately take care of them and let go of the finished car. I am sure that many enthusiasts can think of such people….
Once you get it, you will never give it up… The classic American car, which runs briskly without regard to the current road conditions, will surely enrich the enthusiast life of the new owner who reads this… The new owner who reads this will surely enrich his or her life with this classic American car.
A 70 year old classic car for everyday use…! Even the wife can ride in it…! Transplanted with a domestic mini-car drivetrain and all refreshed…!
1959 Nash AMC Metropolitan Convertible with right hand drive, AT and AC was the car of your dreams for life…!"
Please…come to Gunma Prefecture with your family for a wonderful visit full of vintage mood.
This very rare and wonderful "1959 Nash AMC Metropolitan Convertible Restomod" is currently located in Gunma, Japan.
No consumption tax or other fees will be charged as this is a private sale.
When you purchase this vehicle, you will be required to pay the monthly automobile tax and the recycling deposit.
[Upon making an inquiry…
The vehicles on this page were listed on the Estate Sale® Supremacy, a cross-border e-commerce site for classic and collectible cars.
What is the Supreme and Best (Supremacy) Estate Sale…?
Estate Sale®︎Spremacy is the Japanese version of the North American cultural estate sale, which introduces cars that are full of the owner's thoughts and feelings through manuscript preparation based on interviews, and organizes goods and minds.
Unlike a two-for-one or low-priced purchase that leaves nothing behind, we guide and broker owners to honestly express their feelings and ensure that their memories are passed on to the next generation while leaving their hearts firmly intact.
This article was written based on an interview with the owner, materials received, and a test drive experience during a 3-hour interview starting at 3:00 p.m. on April 26, 2022.
Please be aware that this may not be a 100% accurate description of the condition of the car due to the limited time available.
The content of the original manuscripts is based on careful research in Japan and overseas, but is not backed up by any on-site inspection or other verification. Please be aware that comments on the condition of the vehicles are based on the weather and conditions at the time of the interview, as well as the author's own subjective opinion.
If you have any questions about the listed vehicles, please contact us from the bottom of this page.
Please note that the vehicle inspection is only for customers who are considering to purchase the vehicle.
We appreciate your understanding and cooperation.