TOP>Stock List>1999 Caterham Super Seven ART K1.8
Caterham Super Seven ART K1.8
A classical car with clamshell and simple meter arrangement that has been meticulously built with the dedication of 7's specialist, ART International! The precision Rover K1.8, tuned by Mr. Yoshio Tashiro of the Genesis project, outputs 185PS...! The 1999 Caterham Super Seven ART K1.8 M4T is the ultimate in stoicism and extreme fun, clearly a Seven that is different from anything else...!
When you ride in this Super Seven, it becomes clear that 'something is definitely different'...!
Although it was manufactured by Caterham, this Super Seven is a well-known car in the industry and was assembled in Japan by Art International, led by Akihiko Musashino, in 1999 when it was new. In 2019, the car left the hands of its first owner and underwent an overhaul under the guidance of Yoshio Tashiro, a legend in the Japanese racing industry and founder of Genesis Project, who has close ties with Art International. At that time, everything from the ECU to the injectors was upgraded to the latest state-of-the-art technology. This is not just any Super Seven, but an haute couture car that stands out from the rest. The car's "running" capabilities, which are essential to the Super Seven, have been perfected to an exquisite degree, resulting in "something that is clearly different." We are pleased to introduce this rare Super Seven. The owner of the car enjoys driving a wide variety of European cars, each with its own unique characteristics. We visited a winding road in the mountains where few people and cars ever go to take photos and videos of the car. The owner kindly offered me the chance to experience the Super Seven with a 185PS Rover K1.8 engine, which was assembled by Art International in a custom style as a new car and recently tuned by Yoshio Tashiro of Genesis Project. This was my first time driving a Seven in years since I sold my Kent-engine powered Seven after modifying it to the limit. Though brief, it was an incredibly rich and memorable experience that left a vivid image of the engine in my mind. The Rover K1.8 engine, which was assembled with exceptional precision by Yoshio Tashiro, a highly renowned figure in the Japanese racing industry and engine tuning, is truly special and has "something that is clearly different." The sensation of power emanating from the depths of the ground and the incredibly responsive handling are second to none. The car weighs only 540kg with 185PS, which is equivalent to 342PS when converted to one ton. The sensation of the Seven's "lightness" adds to this already overwhelming experience. It's an incredible and profound thing that defies explanation and all other opinions, such as those that claim to "understand" carburetors or fuel injection. This rare specimen, with its unique "master's experience" value added, exudes an aura that is "clearly different," and I consider myself fortunate to have been able to ride it, as only a few enthusiasts have had the chance to do so.
he high-compression engine has none of the typical temperamental nature, and the engine starts easily with a twist of the key. From the 4-Weber Alpha-made quad throttle, one can feel the breath of air as if from a carburetor. The clutch is also not at all heavy. After blipping the throttle 2-3 times, the throttle response is superb! Now, when you start driving…from here on, it's just sensual memories. By this time, the author had already forgotten about the interview and was in full enjoyment mode in the cockpit (laughs).
When you step on the accelerator…the metallic, solid high-frequency metallic sound unique to the tuned engine increases in tune with the needle of the Smith rev counter, like a barometer of the heartbeat. The high-revving engine, precisely assembled with a boost in mid-range and output from a position almost within reach, produces a uniform exhaust note unique to the high-revving engine, perfectly blended with the high-frequency metallic noise from the engine, and mercilessly plunges into the brain from all directions, gently dissolving the hardened "something" in the brain with a lovely secretion…
Controlling the crossed transmission and stepping on the accelerator and brakes! The balanced chassis and incredibly lightweight body, which is hard to believe at a dry weight of 540kg, provide information on how much the front and rear tires are in contact with the road, which directly enters the brain through the hips and spine, allowing you to confidently say, "I can still do it," and accelerate through the corner with more force! It was truly a touching and enjoyable time!
The winding road in the suburbs where there were hardly any people or cars was truly a paradise for enjoying the Seven. The Super Seven is a car that makes every driver genuinely happy and smiling. However, while the BDR has a higher output, the 185PS output from this Rover K1.8 is the maximum limit that can be enjoyed without stress even on normal winding roads… Furthermore, there is no wasteful stress of owners often seen with high-spec engines that require an overhaul after racing three times that comes with the Seven family…
The K-series engine is designed to operate trouble-free for 10 years, and the lightweight and compact aluminum block semi-dry liner produces high performance. In "Art International," a company run by the famous industry figure, Akihiko Musashino in Saitama prefecture, well-known in the Super 7 industry, capital investment was made to explore the appropriate areas for power-up and its characteristics in Rover engines, and various bench tests were conducted…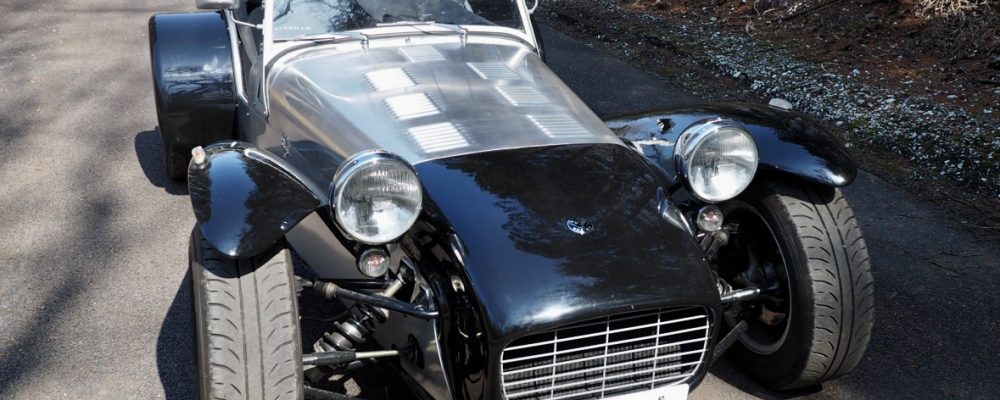 Specification data for the Caterham Super 7 with a Rover K1.8 engine, which was born at Art International and had its engine built by Mr. Yoshio Tashiro of the Genesis Project.
If we describe the detailed data of this vehicle, it would be "Caterham Super Seven ART K Sports, Rover K1.8 M4T 185PS" which includes the following specifications:
Assembled by Art International when new
185PS tuned vehicle, mechanical tappet, 285 cams, ALPHA 4-link injection specification
Engine overhauled in 2019 by Mr. Yoshio Tashiro of the Genesis Project
Cross-ratio 5-speed Quaife transmission overhauled in 2020
ECU and injector updated to new models
Mechanical LSD 3.92
De Dion rear axle
Caterham manufacturing year 1998
First domestic registration year 1999
Most recent ECU connection data calculated mileage value: 50253 km (as of March 2022)
Data can be outputted by connecting the ECU to a terminal, which includes mileage information.
Engine update year: 2019 R6 Alpha Plus Genesis Project
Engine: Rover K1.8 precision engine
Engine number: 10125 R6
Engine status: Excellent
Engine code: ART 18K 285
Output certificate: Bosch206
Injection: Weber Alpha manifold 4-link
ECU ART Delta 35pin Cold air Valve Duty 2pin Auto idle
Digital speedometer
Lightweight flywheel
Sports air cleaner
Exhaust: 4in1 ART original catalytic converter integrated silencer
Brakes: Upgraded AP Racing
Suspension: Front wide tread adjustable damper
Front heat-insulating screen, side curtains, top, and boot covers included
4-point roll bar
Steering: MOMO Lifeline quick-release
3-point seat belts
Meter panel: One-off, simple type switch relocated from new car
Differential/propeller shaft/joint/release bearing overhauled
In addition, maintenance has been performed by Art International for all work since it was first owned by the new car owner. The fact that all records are available is also a significant feature of this vehicle.
Various maintenance work has been performed, including LSD replacement by Ford, manual/electric fan switch addition, radiator hose replacement with Samco, alternator belt replacement, rear stabilizer installation, steering shaft bush replacement, heater hose replacement, engine mount rubber replacement, VX-R shock absorber replacement, and aluminum gearbox cover installation.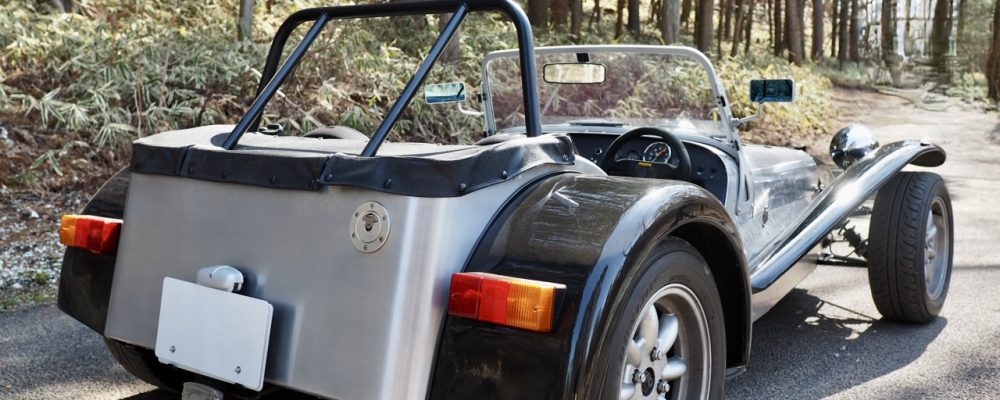 1999 Caterham Super Seven ART K1.8 Genesis Project 185PS specification, post-test write-up...
The human brain tends to amplify past successful experiences and happy memories, selectively keeping only the pleasant ones. When recalling or encountering new information, the brain tends to embellish and preserve the memories that one wants to keep, leading to beautiful memories. This is a common concept in psychology, and for the author, the driving experience of this Seven became such a memory that replayed repeatedly in their mind after the interview.
There was an apparent "something different" inspiration. The excellence that resulted from the expertise of the master is the added value, and I think that this makes it a more valuable experience as one savors it to the fullest extent possible. It is a very niche event, and being able to experience it and add it to one's life experience is a privilege that I felt was given to enthusiasts who can enhance their sensitivity.
"This is a classical car with a clamshell and simple meter arrangement, built with great effort by 7 specialist Art International! The precision-tuned Rover K1.8 by Genesis Project's Yoshio Tashiro produces 185PS! The '99 Caterham Super Seven ART K1.8 M4T was the most stoic and extremely enjoyable Seven, clearly something different!"
Please come and witness the ultimate Super Seven experience on a beautiful winding road that rarely comes to people, located in Nagano prefecture close to Gunma prefecture.a
This extremely valuable "1999 Caterham Super Seven K1.8" is currently located in Nagano Prefecture, closer to Gunma Prefecture
For personal sales, there is no consumption tax or other fees. Upon purchase, the buyer is responsible for prorated automobile taxes and recycling deposits.
Regarding inquiries, this vehicle on this page is posted on the cross-border EC site for classic and collectible cars, "Estate Sale® Supremacy". Estate Sale® Supremacy is a Japanese version of North American culture's estate sale, which introduces cars with the owner's feelings based on interviews and helps sort out material and emotions. Unlike cheap purchases that leave nothing behind for culture and the next generation, we express the owner's feelings sincerely, keep the memories firmly in our hearts, and provide guidance and intermediation to ensure that they are passed down to the next generation.
We conducted a detailed hearing with the current owner, including past maintenance records and repair history, and interviewed them regarding the presence of accidents. If there is a significant accident history or if the current owner's ownership history is extremely short and details are unknown, we may decline the interview and implement measures to deliver as much peace of mind as possible to the customer purchasing the vehicle.
This article was written based on an interview with the owner and a test ride in the passenger seat that lasted approximately five hours on a sunny day on April 3, 2023. As the confirmation was made within a limited time, it may not accurately describe the current condition of the vehicle, and not all contents were verified. Please note that comments on the vehicle's condition were based on the weather and situation at the time of the interview and the author's subjectivity.
Please contact us at the bottom of this page for inquiries about the posted vehicle or to confirm the current condition. Since this is a personal transaction, we only allow customers who are considering purchasing the vehicle to check the current condition to prevent unnecessary inquiries.
Thank you for considering this vehicle.
The detailed condition of the vehicle is described in each photo.
On the top slide you will find 50 attractive photos of the vehicle! Please click on a photo to view it with its description. Click outside the picture to return to the page.