TOP>Stock List>1990 model W124 AMG 300E 3.2 Complete Car
W124 AMG 300E 3.2 Complete Car
A super-rare model with an extremely limited number remaining in the country has arrived...! I always wanted to ride in one...! The exhilaration unique to the independent tuner era of AMG is truly exceptional...!! The 1990 white-bodied AMG 300E was a machine that exuded a genuine aura...
It was during the nostalgic period in Japan when it was called "Ah-Mah-Geh" that the true essence of AMG's greatness existed…
In the 1970s and 1980s, AMG, which was still an independent tuner company at the time, swept the European racing scene, garnered worldwide attention, and produced complete cars in response to the passionate demands of its customers. At that time, parallel imports began to be imported into Japan as well. Even in Japan, it exuded a unique aura and was called "Ah-mah-geh" with a pronunciation that was "close" to German, and I think that many of the readers who are reading this can feel nostalgic about it.
After leaving Daimler-Benz at the end of 1966, Aufrecht convinced Melcher to start a joint venture at the former factory site in Grossaspach. In 1967, they founded AMG, which stood for "Aufrecht, Melcher, Grossaspach Racing Engine Engineering Company". The engines they developed there quickly became essential for private racing teams!
Especially the 24-hour endurance race at Spa-Francorchamps in 1971 was amazing! A heavy four-door sedan tuned by AMG (AMG 300SEL 6.8) raced with great speed and outpaced the lightweight racing cars fielded by big names like Ford and Alfa Romeo, achieving a complete victory! This remarkable feat caused a sensation, and Aufrecht and Melcher established their fame as experts in tuning Mercedes-Benz cars, and the name AMG spread throughout the world.
In the early 1970s, with about 12 employees, AMG pioneered a new field of "niche customization" to meet customer demands. They were even said to be able to accomplish the impossible if you went to them, and AMG continued to grow until it had customers around the world. In 1984, thanks to Melcher's technological innovations, AMG developed a completely independent engine with four valves per cylinder. In 1986, based on this technological innovation, they produced "The Hammer," which was equipped with a 5.0-liter V8 engine in the E-Class coupe. This gave birth to one of the most important icons of the AMG legend to this day, and took Mercedes-Benz sedan tuning technology to a new level.
Based on this technology, in the late 1980s, AMG started to collaborate with Daimler-Benz as an official racing partner, and with the manufacturer's support, achieved a remarkable feat in the DTM (German Touring Car Championship), where they competed with the W201 AMG3.2 and won a total of 50 victories between 1988 and 1993.
Despite having a small number of employees during its founding period, they all came together as one and worked desperately to make things happen through their handmade efforts. In the late 1980s, this turned into "complete cars tuned with soul" and shook the hearts of enthusiasts around the world. The AMG image, which is somewhat different from the sophisticated atmosphere of traditional luxury cars like Mercedes-Benz, with its rough and tough image, called "Choiwaru" in Japanese, became a symbol of aspiration around the world due to its powerful image.
It is by no means just for show. The factory complete cars made during the racing engine tuner era through handcrafted efforts have a rough and super rare aura, and continue to stimulate the owner with a deep driving experience. The AMG 300E, which is based on the W124 and has maintained passionate fans around the world, is one such car.
On the day of the interview, it was a perfect sunny day, and before the eyes of the excited author, a very rare white-bodied AMG 300E appeared, among which most were unmistakably pre-merger and black.
In particular, this "3.2L model" was a model specially produced for the Japanese market during the bubble period, and as such, it has become a valuable model that overseas buyers with discerning eyes have eagerly sought for reverse importation to their home countries. Unfortunately, the number of remaining models in Japan has decreased to only a few. If one were to search the current overseas market, they would discover AMG 300E 3.2 models with added value that were once driven in Japan under the most stringent vehicle inspection system, found all over the world.
This model was released in 1987, during the time when AMG was an independent tuner producing factory complete cars through complete handmade efforts, making it a valuable model from that era.
AMG tuned the originally 3L M103 engine to a high-performance version by expanding it up to 3.2L, tuning it with port-polished heads and intakes for a performance top end, reducing the weight of the valve train, and changing to more aggressive cams, and installed it in the W124. This handmade 3.2L M103 engine by AMG Meister generates 234PS, combined with the 722.3 type 4-speed automatic transmission, it smartly delivers tremendous power to the rear wheels.
According to the owner, this AMG-tuned 3.2L engine is not simply an engine that aims for power-up, but an engine with excellent overall balance that produces torque from low speeds and smoothly accelerates the slightly heavy W124 body weighing 1.5 tons. When you press the accelerator pedal, it immediately revs up to the red zone, reaching speeds that cannot be written here, and if the environment and courage allow it, it will take you away in no time, leaving you with an unforgettable experience!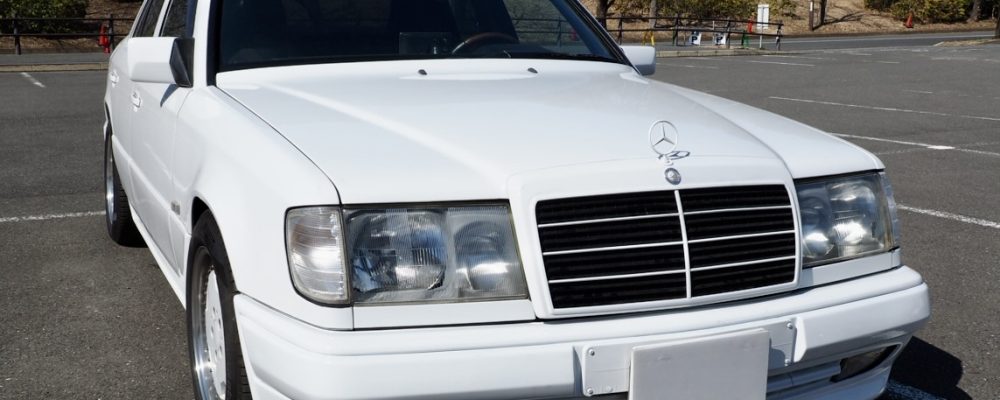 Let's take a closer look at this precious AMG300E with a rare white body color. Unlike the usual W124, which has a chrome-plated grille, this one has a white-out grille instead of blackout.
The owner is the president of a professional body shop with 52 years of experience in the field. According to the owner, the car has been cherished for 14 years since it was acquired in 2009. The previous owner was a long-standing customer who came to the shop for maintenance, and had been taking care of the car's maintenance for a long time before the current owner bought it. When the customer decided to sell the car, the current owner purchased it and thoroughly fixed any issues, knowing the car inside and out.
This vehicle has a very clean exterior with original paint in the same color. Here is an overview of this car:
1990 AMG 300E 3.2L Yanase authorized dealer car (AMG Japan product)
Inspection: valid until September 13, 2024 / actual mileage at the time of reporting 155,021km / left-hand drive / 4-speed automatic transmission
Exterior color: white / interior color: black leather
Power steering / power windows / air conditioning / ABS / tilt sunroof with full functionality
Recaro power seats (driver and passenger) / power-adjustable door mirror (right) / cruise control / fog lamps / ETC / and others
AMG manual / AMG certificate from the original country / records from the previous owner to the present / AMG original book case / spare tire / genuine tools / jack / spare key /
And of course, the car has no accident history.
What is included as AMG Complete…
AMG M103 3.2L engine
AMG genuine 16-inch 3-piece aluminum wheels (205/55R16 Pirelli P7 tires for both front and rear)
AMG exclusive aerodynamic parts
AMG exhaust
AMG steering wheel
AMG 300 km/h white meter
AMG whiteout grille
AMG initial Recaro seats
In addition to these, proof can be found in the AMG Japan caution plate and the AMG caution plate in the engine room.
The fact that the front seats are Recaro and the rear seats are original leather seats is proof that this is an early AMG production model. The owner, who is a professional, has carefully reupholstered the two damaged front Recaro seats, restoring them to their original glory and maintaining their sensuousness.
Although the mileage is over 150,000 km, at this age, what matters most is how well-maintained the vehicle is. The owner, a veteran mechanic with 52 years of experience in the field, has personally maintained this vehicle and used his extensive network to keep it in top condition.
Exhaust replaced with AMG muffler
Cylinder head and upper portion overhauled
Head gasket replaced
Chain tensioner and rail replaced
Oil pump tensioner replaced
Water pump replaced
Intake and exhaust gaskets replaced
Air flow plate replaced
All injectors replaced
Timing belt and belt tension system overhauled
Oil seals replaced in various locations
Transmission oil seal replaced
Rear mount and coupling joint replaced
Front and rear glass replaced during full repaint due to scratches
Sunroof and aluminum rails replaced
Recaro seats reupholstered
Full body paint in original white color
Shock absorbers replaced with Bilstein
Air conditioning repaired
Evaporator replaced
Heater core replaced
Expansion valve replaced
Left rear drive shaft replaced
Left and right rear door actuators replaced
Stabilizer bushings replaced
And so on…
Apart from the usual maintenance items such as oil and spark plugs, there are too many other items to list here, but the above content covers most of them. All of these items can be confirmed through the detailed maintenance records.
The only current issue is that the seat heater does not work.
The veteran owner, who has been in the business for 52 years, accompanied the author throughout the photo and video shooting, with a smile on his face the entire time. He said, "I really want to keep this car with me forever…" It was clear from seeing this well-maintained car that he had decided to let it go with a heavy heart.
We would like to introduce this car with the owner's wish that it will be cherished by Mercedes enthusiasts who can appreciate its true value for many years to come.
1990 AMG300E 3.2 Complete... Post-coverage notes...
During the peak of the bubble economy, when the Mercedes-Benz 560SE was priced at 13.5 million yen, the AMG300E had an initial price of about double that, around 26 million yen. Perhaps it was this pricing that elevated the feeling of longing to a near-deific level.
The precious original owner's manual that comes with this vehicle states: "Your one and only car. For that reason, the first training is crucial." This was a guideline issued by AMG Japan at the time, which included a sticker on the center console that strictly stated "break-in driving." For the first 500km after delivery, the allowable rev limit gradually increased by 500rpm from 3000rpm. The first 1000km is limited to 3000rpm, the next 1500km to 3500rpm, the next 2000km to 3800rpm, and the next 2500km to 4500rpm, with mandatory dealer inspections every 1000km. In addition, it encouraged drivers to idle until the water temperature exceeds 40℃ and not to use the high-rev range for a while after starting to drive.
It is clear that AMG at the time had a standard where cars chose their drivers, with this content being so strict that it almost seems to say, "Don't ride if you can't comply!" Therefore, it is not just the author who has a special feeling of longing.
This 1990 AMG 300E 3.2 Complete Car, with excellent maintenance that cannot be found even by searching, and which can only be encountered by waiting, is truly rare. This very valuable individual with a genuine aura will have an impact that will change the ordinary days of the yet-to-be-seen new owner who reads this, even though they may have longed for a genuine AMG for so long.
A super rare model with only a few remaining in the country has appeared...! I wanted to ride this...! The excitement unique to the AMG of the independent tuner era is truly exceptional...!! The 1990 AMG300E with a white body was one car that exuded a genuine aura...
Please come to a city near Tokyo and hear the owner's 14-year history directly.
This amazing vehicle, the "1990 W124 AMG 300E 3.2 Complete," is currently located in Gunma
Prefecture and is being sold privately, so no consumption tax or other fees will be charged. When purchasing this vehicle, in addition to the vehicle cost, you will be responsible for calculating the monthly prorated automobile tax and the recycling deposit.
Regarding inquiries, this vehicle on this page is featured on the cross-border EC site for classic and collectible cars, "Estate Sale® Supremacy." What is Estate Sale Supremacy? It is the Japanese version of the North American cultural estate sale, where we present the car owner's thoughts through written interviews and help them sort out their material and emotional possessions. Unlike the valueless low-price purchases that leave nothing for future generations, we express the owner's thoughts honestly and ensure that the memories are firmly engraved in their hearts while also providing guidance and mediation for the next generation.
We conducted a detailed hearing with the current owner, including past maintenance records and repair history, and conducted interviews to confirm the presence or absence of accident history. If there was a significant accident history or if the current owner's ownership history is extremely short and unclear, we declined the interview and implemented measures to provide as much peace of mind as possible for customers who purchase the vehicle.
This article's content was written based on an interview with the owner, a test drive experience in the passenger seat, and records obtained on February 23, 2023, for about three hours. Please note that there may be cases where we cannot accurately describe the condition 100% due to the limited time for confirmation. Also, please be aware that the comments on the condition are based on the weather and circumstances at the time of the interview and the author's subjectivity, and do not necessarily reflect the actual condition.
If you have any questions regarding the featured vehicle or would like to confirm the condition in person, please contact us at the bottom of this page. However, please note that we only allow customers who are considering purchasing the vehicle to check the condition in person.
The detailed condition of the vehicle is described in each photo.
On the top slide you will find 50 attractive photos of the vehicle! Please click on a photo to view it with its description. Click outside the picture to return to the page.