TOP>Stock List>1992model Rover Mini 1.3 Final Cab Cooperer
Rover Mini 1.3 Final Cab Cooper
A fully restored unit from a dilapidated state...! This Mini Cooper, meticulously crafted without any compromises by a reputable Mini specialist, is a truly exceptional vehicle that showcases an unparalleled driving experience. It's a revelation, transforming your basic lifestyle into a high-energy adventure in an instant! This 1992 1.3L Final Cab Cooper is a precious gem that will elevate your driving experience to the maximum level!
the Mini, even the familiar neighborhood roads transform in an instant, offering a driving experience akin to a thrilling go-kart ride. Unlike modern cars, the Mini brings an unparalleled joy, effortlessly bringing a smile to your face. With its primitive charm and without any need for special preparation, the Neo-Classic Mini Cooper, including its size, might just be the car enthusiast's dream vehicle, elevating the ordinary into an extraordinary daily experience…
In my experience covering various cars every day, I sometimes find myself feeling just like this…
From the 1960s to the 1990s, for half a century, the Mini was a massive hit and a common sight on the streets…
I've had the opportunity to cover quite a few Minis before, but this one was exceptional…
Thanks to the owner's generosity, I had the chance to drive it for a brief moment, and it was truly eye-opening! The instant connection you feel with every part of the car when you start driving is exceptional and incredibly impressive. The meticulous restoration work, from the engine to the transmission and every component, was done so well that it felt like a new car—no, even better. I couldn't help but exclaim, "This is amazing!" repeatedly.
Taking a close look at every part, not a hint of rust or scratch could be found. When I spoke with the owner and listened to their story, it all made sense. As you can probably tell just by looking at it, a well-known Mini specialist in Kanagawa Prefecture undertook a full restoration of a Mini in its original red color, three years ago, starting from a state of disrepair…
They paid meticulous attention to every detail, going beyond the owner's request. The car was completely restored from scratch, including rust removal and bodywork. The combination of Sun Yellow and Roof Black, reminiscent of the 1980s, was meticulously applied. Everything, from the engine to the transmission, was overhauled, and no compromise was made. It was a masterpiece crafted with dedication…
They focused on the final version of the 1.3L Cooper with a carburetor, found a well-preserved base, and undertook a full restoration, including body corrections, from its dilapidated state. This restoration was carried out about three years ago, and since then, the car has been regularly maintained by the same specialist shop. Just a few days before this article was published, the car underwent a regular inspection at the same shop…
If we list the restoration points implemented over time, regardless of chronological order…
Full restoration from a dilapidated state
Rust removal and sheet metal processing
Complete body alignment
Replacement of insulation materials, bulkhead, and floor soundproofing mats
Full repaint in Sun Yellow & Roof Black (80s look)
New bumpers installed
Installation of opening and closing quarter glasses
Steering rack adjuster installed
Interior roof reupholstered in grey
Cooper decals
WIPAC headlights installed
Light relay refreshed
WIPAC 5-inch fog lamps (rare item) installed
Engine and transmission overhauls
Full overhaul of left and right drive shafts
Inner and outer boot replacements
Steering rack boot replacement
Suspension tension bushing replacement
Tension rod overhaul
Bushes and tie rods around the steering replaced
Differential seal, inner boots, rack bushing replacement
Rear brake cylinder replacement
Brake servo overhaul
SU1 3/4 carburetor overhaul
Installation of K&N air cleaner
Refresh of accelerator, heater, and choke cables
Exhaust manifold replacement
Catalytic converter and muffler assembly overhaul
Installation of original 65D4 full transistor distributor
ULTRA plug wires installed
Rivet-marked rims installed
Overfenders with moldings for up to 5J installed
AVON/Moulton rubber cones replaced
Knuckle joint replacement
All arm bushings replaced
Rare CR Wheels 4.5J X 10 inches +34 Granite Green installed
Dunlop Formula R D93J 10-inch tires installed (currently new)
New MK-II Cooper front grille installed
New moldings installed
34L gasoline tank overhauled
Clear side markers installed
New park lenses
New chrome wipers
Lanabout racing mirror installed
Aston-type filler cap (with key) with leather bib installed
Trunk tray board custom made
Speaker baffle board custom made
Brake master cylinder replacement
New brake fluid container, washer tank, etc.
Clutch master cylinder replacement
Work-style grill buttons installed
Driver's seat Cobra bucket seat installed
Rear seats reupholstered in black leather by CABANA
Door inner panels, quarter inner panels, tire house covers replaced
Motolita steering wheel (black anodized finish) installed
ULTRA stepping motor rev counter installed
Magnolia White center meter ASSY replacement
Cooper ashtray installed
Classic Mini Cooper sun visor installed
Fresh air intake installed
ETC installed
Various meticulous setups…
These are the detailed points implemented in the restoration, regardless of their chronological order…
Moreover, you can see the detailed restoration diary and more on the Facebook page of the specialist shop that restored this car. I'll provide the link below. Please check it out.
Link to Facebook page:
Mini Cooper Restoration Facebook Page
You can also access it through the QR code.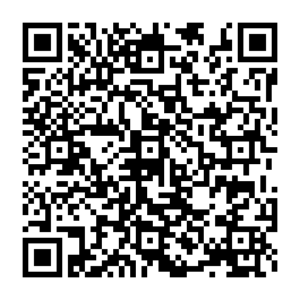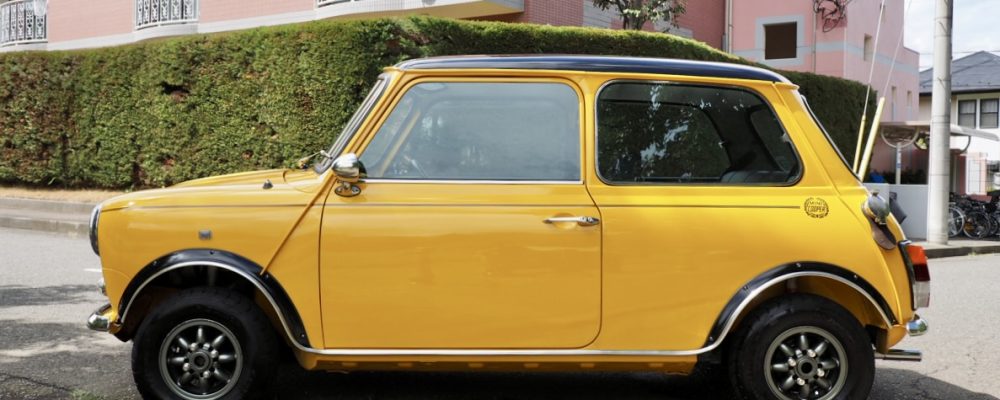 Riding in a Classic Mini is an experience in itself. I had the opportunity to ride in a final edition Cab Cooper, meticulously restored and beautifully finished with a touch of sensibility, reminiscent of the 1980s. It was truly a remarkable experience!
The Monte Carlo Rally of 1964… In the challenging snowy special stage of the Chirnside Pass, where snowflakes danced in the air, the Mini Cooper chased down high-displacement Porsches from behind. It achieved an overall victory that no one could have imagined at the time, securing an unprecedented consecutive win for the next three years (effectively four years)…
Amidst the backdrop of the oil crisis, Sir Alec Issigonis, the genius behind the Mini, created a revolutionary invention in the midst of the demand for small cars. This invention has become a cultural phenomenon that reshaped automotive history. Its influence continues to resonate to this day…
Nearly 60 years have passed since the legend of the Mini… In an era flooded with cars that function like household appliances at the push of a button, the Classic Mini stands as a precious entity. It can transform your everyday winding road into the challenging Chirnside Pass, elevating your lifestyle to a basic yet exhilarating experience, bringing your spirits to the maximum at any given moment. It has become an unparalleled icon that transcends enthusiasts, appealing to people of all ages and backgrounds…
With the sentiment of "lightness is everything," from the MG Midget to the Super 7 and even Lotus, I, as the author, deeply immersed myself in the allure of British lightweight vehicles. I am currently in the process of lightening my own car (laughs). During this interview, I had the privilege of test driving a 1992 final edition 1.3L carbureted Cooper, meticulously restored from a dilapidated state by a renowned specialist shop, fulfilling a customer's order…
The meticulous customization during the restoration, while retaining the car's original charm, is truly captivating. Nestled in the classic Cobra bucket seats, experiencing the grip of the height-adjustable dish-type Moto-Lita steering wheel, and feeling the long-stroke shift lever conveniently placed for the left hand, all contribute to the profound connection with the Mini…
The seamlessly cross-patterned 4-speed transmission, easy to handle both in the city and on winding roads, is a delight, especially in gears 3 to 4. The overhauled setup, combined with the fantastic sound of the carburetor, along with the ABC pedal position practically urging you to "heel and toe," creates an enticing performance that resonates with enthusiasts…
The genius Sir Alec Issigonis was shocked by the poor ride quality of the early Mini prototypes equipped with metal springs. He ingeniously conceived the idea of rubber cone suspension dampers, giving the Mini its unique "directness." In this restoration, the newly fitted Avon rubber cones function superbly. With almost no front and rear overhangs, the lightweight body with a dry weight of around 700 kg, combined with the energy-absorbing properties of the rubber cones, results in minimal rolling. The ultimate direct and quick handling of the Mini, endorsed by racing drivers of the time, led to its selection as the Monte Carlo Rally car, competing even against Porsches…
Familiar roads suddenly transform when you drive this Mini… The direct driving experience, felt even at low speeds, stimulates the driver's mind, altering the scenery in an instant…
In the years following this model, the Classic Mini increasingly adopted fuel injection, and safety features like airbags became standard. However, this 1992 model stands as the "last breath of the lively Mini" with its carbureted engine…
You can vividly feel the tire's response at each corner of the car through the Cobra bucket seats. The offset Moto-Lita steering wheel and the seats clearly transmit the sensations from the 10-inch sports tires. Even the "kickback," a sensation lost in modern cars, can be felt. The Mini's unique handling, controlled effortlessly by the accelerator, captivates enthusiasts worldwide, prompting them to utter incomprehensible exclamations during the drive…
That's why… Driving it in the city is enjoyable, of course… Even on your favorite downhill winding roads, within legal speed limits in Japan, you can fully enjoy its capabilities without any guilt or hesitation… This is the true charm of this 1992 1.3L final edition Cooper…!
Even if you own a lighter super sports car, even if you invest eight digits into it, sometimes you might find there's nowhere to drive it, causing stress. Those who have experienced such situations can truly understand that this primitive aspect might be the most significant allure of the Mini…
"Fully restored 1992 Rover Mini 1.3 Final Carb Cooper Post-Interview Notes..."
"Receiving requests for 'cars to let go' day by day, I often find myself pondering strangely when I go for interviews with various people…
'Life only happens once… I want to face the car I want to ride…' With that thought in mind, enthusiasts who take great pleasure in searching for a long time, finally finding, and finishing a car just as they dreamed it to be… However, the process of acquiring and finishing the car is not as enjoyable. It's a daily occurrence to receive consultations about selling the car that has been finished wonderfully.
The owners and their families who will be collecting various cars this time around… I arrived a bit early on the day of the interview, and despite the scorching heat, it was very impressive to see everyone washing the cars for the photoshoot. It was a scene where their affection and care for the cars were vividly conveyed…
To the author's question, 'Why are you parting with this truly wonderful car that underwent an overhaul from a beat-up condition?' they answered, 'Because there are no issues anywhere, and it's in the best condition, that's why I'm letting it go at this timing…' I will convey this comment, which clearly reflects the personality of the entire family…"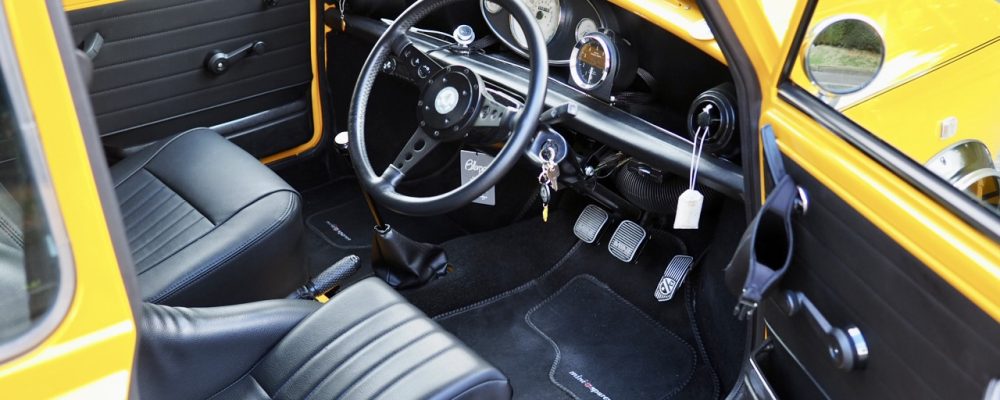 A fully restored unit from a beaten-up state...! This car, meticulously finished without any compromise at a trusted Mini specialist, showcased an extraordinary driving experience, truly an 'eye-opener'...! The 1992 1.3L Final Carb Cooper transformed a basic lifestyle into a suddenly high-energy, valuable machine that can change your mood to the max...!‼
My post-interview notes were filled with the owner's feelings towards the 'next person who will inherit it,' and I firmly believe that this meticulously finished vehicle will undoubtedly offer the next owner a wonderful 'Mini lifestyle'… This was my impression after the interview.
I invite you to come and see this perfectly finished, supreme Mini in Kanagawa Prefecture. You're welcome anytime.
This very splendid "1994 Mercedes-Benz W124 E500 Limited" is currently located in Nagano Prefecture.
"This extremely rare 1992 Rover Mini 1.3 Final Carb Cooper is currently located in Kanagawa Prefecture.
As this is a private sale, there are no consumption taxes or additional fees for the vehicle itself. The car comes with a valid inspection, so prorated calculations for automobile tax and recycling deposit settlement will be necessary.
We also offer vintage car transportation services through the author's business, so please feel free to inquire if you are interested.
[Regarding Inquiries…]
This vehicle featured on this page is listed on the cross-border EC site for classic cars and collectible cars, 'Estate Sale®️ Supremacy.'
What is 'Supremacy' in Estate Sale…?
'Estate Sale®️ Supremacy' introduces cars cherished by their owners through manuscript creation based on interviews, a Japanese version of North American cultural estate sales that help organize both physical possessions and emotions. Unlike the typical situation where items are sold for next to nothing and nothing is left for the next generation, we express the owner's feelings sincerely. Memories are preserved in the heart, and we ensure a smooth transition to the next generation.
We conduct detailed interviews with the current owner, including past maintenance records and repair history. If there is a significant accident history or if the current owner's ownership history is extremely short and details are unclear, we refuse the interview and make efforts to provide as much peace of mind as possible to the prospective buyers.
This article was written based on the interview with the owner conducted on August 23, 2023, from 11:00 AM, under clear skies, with approximately 4 hours of interview time. Please note that due to the limited time for verification, the description of the vehicle's condition may not be 100% accurate. Additionally, all the content in this article is not backed by exhaustive evidence. Comments about the condition are based on the weather, circumstances during the interview, and the author's subjective opinion.
For questions about the featured vehicle or to schedule an on-site inspection, please contact us from the bottom of this page. Since this is a transaction between private individuals, on-site inspections are limited to customers who are considering the purchase as a 'premise' to prevent frivolous inquiries.
Thank you for your understanding and consideration."
The detailed condition of the vehicle is described in each photo.
On the top slide you will find 50 attractive photos of the vehicle! Please click on a photo to view it with its description. Click outside the picture to return to the page.