TOP>Stock List>2000model Kawasaki ZX-12R Ninja Initial A1 Type European Reimport Full Power Specification
Kawasaki ZX-12R Ninja Initial A1 Type European Reimport Full Power Specification
The owner, a skilled big bike rider, seeks excitement in the 'world's fastest without limits,' leading to the debut of a polished initial A-type model! With the mindset 'let's upgrade while there are parts available,' this machine has been refined while being ridden, accompanied by a shelf full of spare parts! The initial A1 type X Z-12R, a 'manly bike,' is a ride to savor now that such bikes have become rare!
The experienced bike rider, who prefers bikes that are 'extraordinary in some way,' spent their formative years with discontinued Japanese vintage bikes like CBX400F, XJ400, Z400FX, and Z400GP. Despite temporarily giving up biking due to life stage changes, about 20 years later, a few years ago, they embarked on their motorcycle journey once again, this time as a big bike enthusiast. Riding bikes like VFR400R, Zephyr 750, Ducati, they explored the scenic winding roads of their hometown countless times. However, the owner felt uninspired.
Determined to ride something exceptional, they decided, 'If I'm going to ride, let's challenge myself with an outstanding bike!' With this resolution, they searched tirelessly for a well-maintained machine. Finally, a few years ago, they found what they were looking for: the early A1 model of the ZX-12R, released by Kawasaki in 2000. This bike was their choice to reclaim the title of the world's fastest, with a staggering top speed of over 300 km/h, a record previously held by the Suzuki Hayabusa.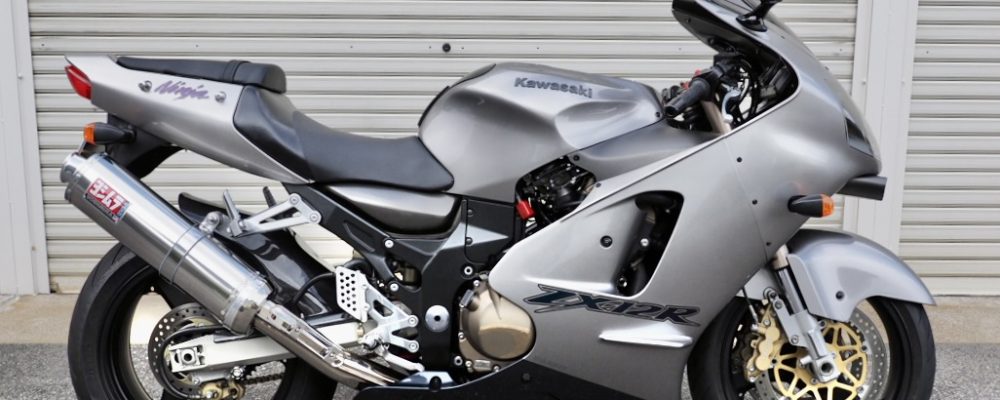 A world's fastest bike without limits...! Only the A1 model shows over 300km/h on the 350km/h meter display...! This is the ultimate ZX-12R initial A1 model that created the 300km/h regulation in Europe...!
Around 1990, a fierce competition among motorcycle manufacturers for the title of "production bike exceeding 300 km/h" emerged, becoming the catalyst for creating a new genre called "Mega Sports." Kawasaki led the way with the ZZR1100, but in 1996, Honda introduced the CBR1100XX Super Blackbird, followed by the Suzuki GSX1300R Hayabusa in 1999, dethroning Kawasaki from the title of the fastest bike.
As the millennium approached, the ultimate experience that only three bikes in the world offered became a reality. These bikes displayed an extraordinary speed of 350 km/h on the speedometer scale, a feat unimaginable for an average human being. Although not publicly acknowledged, one of these bikes achieved an actual speed of 304 km/h. It was the Kawasaki ZX-12R A1 model, sold only in 2000, with a special feature: it lacked a speed limiter, an expression of Kawasaki's unique passion and commitment.
The pinnacle of Kawasaki's ZX-R series, the ZX-12R A1 model, aimed for the world championship with groundbreaking technology. Ignoring daily convenience and touring comfort, it was designed as a Spartan bike with a high-revving, super-short-stroke engine and Kawasaki's first-ever monocoque structure main pipe functioning as an airbox in a backbone frame.
To achieve speeds beyond 300 km/h, Kawasaki's engineers developed a water-cooled 1199cc inline-4 engine, producing 181 PS (and an astounding 190 PS with ram air pressure at high speeds, equivalent to 900 PS for a 1-ton car). The cylinders were enlarged and the stroke shortened, creating a high-revving engine characteristic in a big bike. To maintain stability at high speeds, aviation engineers were consulted to refine the design. Resulting in features like the shape of the ram air intake that remained unaffected even during drastic lean angles, similar to the placement of ram air intake under the leading edge extension of the F16 Fighting Falcon fighter jet. Additionally, "strakes" resembling an aircraft's tail wing were placed in the middle of the cowl to reduce wave resistance, ensuring stability during high-speed runs.
This bike is undoubtedly not for everyone. It embodies the essence of Kawasaki as a "man's bike." Particularly, the early A1 model produced in 2000, especially the "European-spec model without a limiter," has already transcended into a special existence, eagerly desired by "veteran riders with their mental limiters intact," who want to ride a full-power bike even if they have to import it. Today, 23 years after its production, these bikes, along with their unobtainable aftermarket parts, have become a rare encounter, a momentary meeting that one must patiently wait for, transforming into an entirely sublime existence.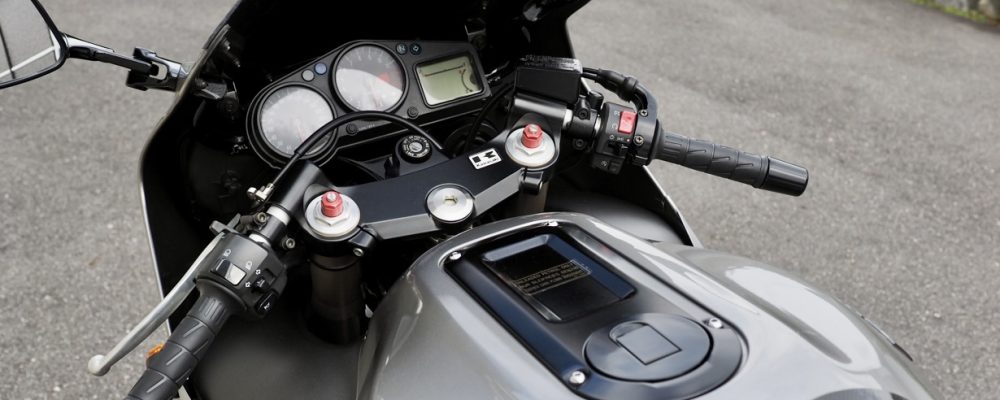 The owner, driven by a lifelong commitment to their passion for riding, has amassed a vast collection of brand new spare parts that fill shelves to the brim! With the owner's dedication, everything has been meticulously renewed under the principle of "refreshing everything before the parts run out," creating an exquisite early A1 model with handwritten records kept securely intact.
The seasoned bike rider, who prefers exceptionally outstanding motorcycles, had been searching for the most extraordinary ZX-12R Initial A1 model for years. However, the harsh reality of over 20 years since its release made it incredibly challenging. Parts availability was scarce, and finding a well-maintained unit proved to be very difficult.
In the midst of this, they happened to hear a rumor in the neighborhood: "There's a very clean Initial A1 model with around 8000km stored in a garage nearby." Without hesitation, they went to see it. It turned out to be an imported unit from Europe, sleeping for a decade under the care of its single owner. Feeling confident about its condition, they purchased it immediately and entrusted their trusted mechanic (the bike shop) to awaken the sleeping beauty.
At this stage, the bike underwent several modifications and replacements: fuel tank, brakes, front forks overhaul, changing tire size from 200/50 to 190/55 for better maneuverability, and various consumable parts such as air filter, coolant, engine oil, spark plugs, and gaskets were replaced. It successfully passed inspection and was made roadworthy.
Regarding the later B model, genuine parts were still available, but for the Initial A1 model, genuine parts supply was already scarce. This prompted the owner to start collecting parts, focusing on genuine components, before they became even harder to find.
According to the meticulously kept handwritten maintenance records, in June of Reiwa 3 (2021), at 8780km:
– Full inspection and maintenance, including used vehicle registration
– New MRA smoke-type front screen installed
– Rear suspension linkage greased with molybdenum grease
– A-type fuel tank replaced with a rust-free used one
– Fuel pump and gauge gasket replaced with genuine new parts
– Overflow hose replaced with a new aftermarket one
– Rear stand hook replaced with S.T.M brand new part
In August of Reiwa 3:
– Radiator cap replaced with a genuine new part
– Water pump pipe and O-ring replaced with genuine new parts
In April of Reiwa 4 (2022) at 9903km:
– Engine oil changed (Motul 7100 10W-40)
– Genuine oil filter replaced
In May of Reiwa 4:
– Rear fender and ECU holder replaced with B-model parts
– Rear fender modified
– Upper part of storage compartment modified
In June of Reiwa 4, at 10727km:
– Fuel gauge and gauge gasket replaced with new parts due to rapid fuel gauge decrease
In March of Reiwa 5, at 11226km:
– Engine oil changed (Motul 7100 10W-40 3L)
– Genuine oil filter replaced
– Radiator coolant main pipe completely replaced with genuine parts
– Thermostat and gasket replaced
– Lower thermostat case gasket replaced
– Wako's Power Coolant (4L) used
– Rear suspension linkage greased with Wako's grease
In April of Reiwa 5, at 11226km:
– Two fuel hoses replaced with 8mm inner diameter universal parts for injection systems
– Fuel tank lower drain hose replaced with a genuine new part
In June of Reiwa 5, at 11600km:
– Radiator replaced with a brass-made custom radiator
– Three mounting rubber parts replaced with genuine new ones
– Radiator core guard (custom-made by Ishihara Radiator)
– Radiator fan switch replaced with a genuine new part
– Wako's Power Coolant (2.5L) used
– Wiring for horn rerouted and heat-resistant with thermo tube due to a fall during touring
– Exhaust pipe replaced with a used genuine part from European A1 model specification
– Four exhaust gaskets and one silencer gasket replaced with genuine new parts
– New US Yoshimura slip-on exhaust installed
– Genuine brake lever and right grip end replaced with new parts
– Clutch cover ordered new; still undergoing repair due to the oil change
In July of Reiwa 5, at 11600km:
– Rear seat cowl replaced with a used good condition part
In July of Reiwa 5:
– Right back mirror repaired and repainted
– Repair painting done on the lower part of the right side cowl
In July of Reiwa 5:
– A-TECH dry carbon rear inner fender replaced with a new part
In July of Reiwa 5:
– Rear seat cowl replaced again with a used good condition part
And so on…
What's truly remarkable is the extensive collection of spare parts neatly organized on the shelves, most of which are genuine parts. These were collected with the mindset of "let's stock up while genuine parts are still available." Interestingly, they had considered acquiring a parts donor motorcycle, but the owner's sentiment was clear: it had to be a better unit than this one, otherwise, it wouldn't suffice as a parts donor. This sentiment highlighted how diligently they had updated this unit, as evident from this comment.
This well-preserved Initial A1 model exudes a freshness in every part; it's as if the 23 years since its creation never happened. The bike comes with a vast collection of spare parts, ensuring worry-free riding for the next 10 to 15 years. The owner believes that it's in its "best condition" right now, which is why they've made the decision to part with it.
Despite the minor "fall" incident in June, which led to a slight modification of the exhaust manifold and silencer, the owner remains passionate about the bike. They mentioned that the clutch cover is the only component that still needs repair, but they plan to replace it with a new one during the next oil change.
Additionally, to tackle the ZX-12R's high heat dissipation, which sometimes causes deformation of the fairings, the owner had custom brass radiator and core guards made. Considering that genuine radiators are hard to find and brass doesn't corrode like aluminum, this update has proven to be highly effective.
In front of this fantastic Initial A1 model, the owner, with a beaming smile, shared their thoughts with the writer. They conveyed how stable the bike is, allowing them to ride effortlessly even at speeds that are hard to mention. It's a bike that provides an incredibly enjoyable and exciting experience, letting them revel in their own world of speed. To them, it feels like they've conquered the world while riding this motorcycle.Every part, including consumables, has been refreshed. The aura of being meticulously cared for over 23 years is palpable. With the extensive collection of spare parts, this bike is ready to be ridden worry-free for another decade or more. The owner expressed a quiet determination to part with it, valuing not only the bike's worth but also the preciousness of the spare parts. They hope to find a new owner who will understand and cherish this bike's value.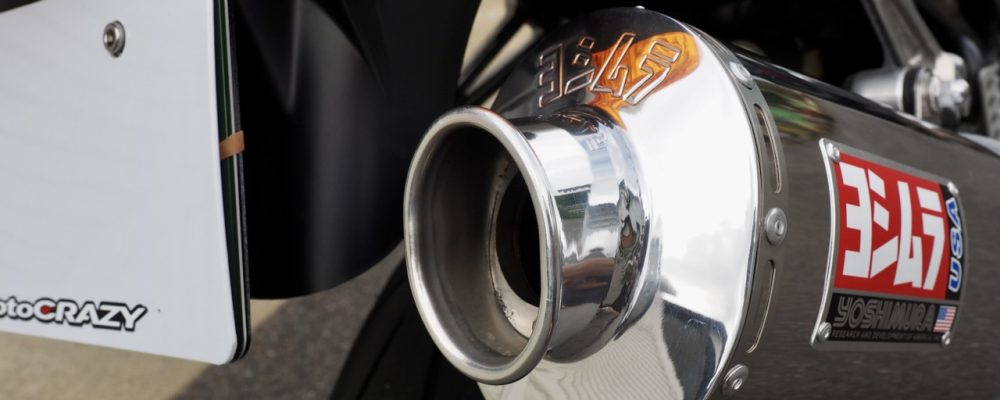 Postscript to the Interview with the 2000 Kawasaki ZX-12R Initial A1 Model
In Nagano Prefecture, there are numerous famous winding roads that attract riders from all over the country. Riding freely through these winding roads with deep leans and nailing the corners with precise footwork, the sensation when the cornering is spot on feels like "a rush of adrenaline in the brain…! This exhilaration is something incredible…!" The owners of big bikes, who possess outstanding personalities, talk about the charm of these winding roads with a big smile on their faces. They are truly wonderful individuals.
Because these bikes have been touched with so much love, it feels unfair to simply keep them for the sake of possession. Recognizing the inevitable "changes in life stages" that everyone experiences, and as the days of simply admiring the bikes in the garage increase, the decision to part with them was made with a "heart-wrenching feeling."
Or, to be precise, the decision to make the decision has been made. It is when the next sincere owner appears and they think, "This person would be the one…" that they will truly commit to letting go.
A skilled big bike rider eagerly seeks the thrill of a "world's fastest without limits" and here comes the meticulously refined early A-type model! "Let's refresh it while the parts are still available..." With this mindset, the owner has been riding and maturing this bike, which comes with a shelf full of spare parts! The early A1-type X Z-12R is a bike that one wants to savor carefully, especially now that there are fewer of these "manly bikes" around!
Certainly, please come to Nagano Prefecture for an exciting firsthand look at the early A1-type, complete with 50 photos at the end and reference videos. We encourage you to hear directly from the owner about their passion for this bike. We truly believe that once you see this bike in person, you won't be able to resist the thrill of the initial A1-type. Please make sure to schedule a visit for this exhilarating experience!
This incredibly impressive "2000 Kawasaki ZX-12R Early A1-Type European Import Full Power Specification" is currently located in Nagano Prefecture.
This vehicle is being sold through a private transaction, so there are no consumption tax or additional fees. The transportation from the owner's garage in Nagano Prefecture is the responsibility of the buyer to arrange.
[Regarding Inquiries…]
The vehicle featured on this page is listed on the cross-border EC site for classic and collectible cars, "Estate Sale® Supremacy."
What is the Estate Sale Supremacy?
Estate Sale® Supremacy introduces cars that are deeply cherished by their owners through interviews and written manuscripts, following the tradition of estate sales in North American culture where physical and emotional belongings are sorted. Unlike the commonplace practice of selling off items at throwaway prices, Estate Sale® Supremacy expresses the owner's feelings sincerely. We ensure that memories are cherished while facilitating a smooth transition to the next generation.
We conduct detailed interviews with the current owner, including past maintenance records and repair history. If there is a significant accident history or if the current owner's ownership period is exceptionally short and details are unclear, we may decline the interview. We strive to provide peace of mind to our customers to the best of our abilities.
This article was written based on an interview with the owner conducted on October 1, 2023, from 10:00 AM to 1:00 PM under clear skies, lasting approximately 3 hours. Please note that due to the limited time, the description of the vehicle's condition may not be 100% accurate. Additionally, the content of this article is not backed up with supporting evidence. Comments on the condition, etc., are based on the weather, circumstances at the time of the interview, and the author's subjective opinion.
For inquiries about the featured vehicle or to arrange a viewing, please contact us at the bottom of this page. As this is a private transaction, to prevent casual inquiries, on-site inspections are limited to customers considering a purchase as their intention. Your understanding is greatly appreciated.
The detailed condition of the vehicle is described in each photo.
On the top slide you will find 50 attractive photos of the vehicle! Please click on a photo to view it with its description. Click outside the picture to return to the page.